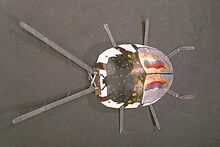 Wonderbug was a Lightweight robot that competed in the 1996 US Robot Wars. It was one of two robots built and entered by future BattleBots legend Jonathan Ridder, the other being the Featherweight (later Lightweight) entrant Ziggy. It was a four-legged walkerbot with horizontal crushers at both ends. It drew its first and only battle with The Eviscerator after both robots were disqualified for lack of controlled movement.
Jonathan later entered BattleBots with Lightweight Ziggo and Middleweight ZiggZagg, the former robot went on to win three Lightweight titles.
Robot History
US Robot Wars 1996
Wonderbug took on The Eviscerator in its first battle, a lack of controlled movement from it and its opponent led to both robots being disqualified, ending the match in a draw.
Results
| Series | Event | Round | Opponent(s) | Results |
| --- | --- | --- | --- | --- |
| US Robot Wars 1996 | Lightweight Division | 1 | The Eviscerator | Disqualified (Drew) |
Wins/Losses
Wins: 0
Losses: 0
Draws: 1