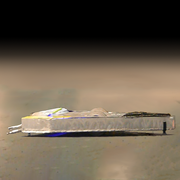 Unlicensed Disintegration
was a Middleweight robot built by students from
Grants High School
in Grants, New Mexico that competed at RoboGames 2017. It was a silver, two-wheeled, invertible, triangular robot armed with a weak drum spinner.
Like most of the robots from Grants High School, Unlicensed Disintegration was built mainly from scrap. It did not perform well in competition, winning only one fight before getting completely destroyed by its next two opponents.
Robot History
Edit
RoboGames 2017
Edit
Unlicensed Disintegration's first ever match was against another robot from Grants High School, Kanye's license of Sally's Mustang of Unlicensed Disintegration. This was a rather uneventful match with both robots avoiding each other for the first 30 seconds. Unlicensed Disintegration then slammed Kanye's license against the wall immobilizing it, Kanye's license was then counted out giving Unlicensed Disintegration the win by KO.
This put it through to the next round where it faced Touro Classic. This match started with Touro Classic charging at Unlicensed Disintegration which was moving in circles, and ripping a chunk of armor off it. Touro Classic then slammed Unlicensed Disintegration again, this time sending it flying, ripping the drum off, and peeling up the side armor.
Touro Classic then tore a chunk off of the side armor, before ripping the top armor off of Unlicensed Disintegration. Touro Classic then continued the attack, however before any more damage could be done, Unlicensed Disintegration tapped out.
"Unlicensed Disintegration has a wedge on now, their drum mechanism got BTFO'd in the last fight, they also have a caster on the back to make the wedge worthwhile."
— Mark Elam commenting on the crippled state of Unlicensed Disintegration before the start of the fight against Stewart.
This loss put Unlicensed Disintegration into the loser's bracket where it faced Stewart. Before this match even started Unlicensed Disintegration was crippled from its prior fight, and went in with an impromptu wedge. The fight started with Unlicensed Disintegration freeing itself from the wall which it had backed up onto prior to the start.
Stewart then came in, and delivered a small hit before competely ripping Unlicensed Disintegration to pieces. Unlicensed Disintegration them promptly tapped out meaning that it, and Grants High School was eliminated from the competition. Unsurprisingly this damage likely caused its retirement as the robot would not return for RoboGames 2018.
"Goodbye Unlicensed Disintegration, hello Stewart!"
— Mark Elam as Unlicensed Disintegration was destroyed for the final time by Stewart.
Wins/Losses
Edit
Competition
Event
Opponent(s)
Round
Results
RoboGames 2017
120lb Combat
Kanye's license of Sally's Mustang of Unlicensed Disintegration
Round of 32
Won
Touro Classic
Round of 24
Lost
Stewart
Lost
Community content is available under
CC-BY-SA
unless otherwise noted.