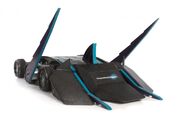 UltraViolent is a robot which competed in Season 2 of ABC's BattleBots. It was created by Andrew Peterson, who previously competed in BattleBots with Titanium Joe in Season 5.0. UltraViolent featured six-wheel drive and was equipped with a flipping arm set into the front wedge as well as two pivoting arms, one mounted on either side, in order to remove itself from obstacles should it be high-centered. However, the team was unable to get the flipping arm working in time for the tournament so, they were only able to use the side lifting forks. It was also decorated with many LED lights, making it a very eye-catching robot. Even so, it did not perform well from two previous matches.
Robot History
Edit
UltraViolent was one of twelve robots selected to fight in three-way melees in order to determine the final four robots of the bracket. In its match it was placed against Son of Whyachi and Creepy Crawlies. Unfortunately, UltraViolent never moved and took a huge hit from Son of Whyachi's spinning hammers while trying to use its lifting arms to stay mobile and attempting to escape Whyachi's hammers to no avail. After this, both UltraViolent and Creepy Crawlies were counted out and Son of Whyachi won the match by a destructive KO at 1:16, eliminating UltraViolent from the tournament.
Despite this loss, UltraViolent returned for the main competition after HellaChopper was forced to withdraw, where it faced off against HyperShock. UltraViolent was able to get moving this time around and began approaching. However, after taking a few hits, its arms were constantly swinging, leaving the robot to have difficulty maneuvering. HyperShock coninued to attack and UltraViolent lost two tires but continued to struggle with its arms. UltraViolent was sent into the screws before escaping. By this point, Ultra Violent could no longer drive due to its weapon arms problem and HyperShock took advantage with another hit, removing UltraViolent's base plate and allowing UltraViolent's electronics to hang loose or fall out completely, UltraViolent became high-centered on its on electronics and couldn't move and thus was counted out, giving HyperShock the win by KO at 1:30. UltraViolent unfortunately was not chosen to be a wild card meaning it was eliminated from the tournament.
Wins/Losses
Edit
Community content is available under
CC-BY-SA
unless otherwise noted.