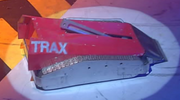 Trax was a one-time competitor that fought in Series 7 of Robot Wars. It lost in the second round to the 16th seeds Storm 2.
Robot History
Edit
Trax made its debut in Heat I of the Seventh Wars where it was placed up against The Steel Avenger, Sub-Version 1.1 and Shredder Evolution in the first round. Trax's first drive was towards Sub-Version 1.1, which flew over the top of Trax. Trax then tussled with The Steel Avenger, and threw it up and onto its side while dodging an axe swing in the process. Next, Trax slid underneath Sub-Version 1.1 and drove it across the arena and into the side wall with a strong drive, but was unable to cause Sub-Version 1.1 any further problems with its thrusting arm, which narrowly missed its opponent when it was activated. Trax then tentatively pushed the side of The Steel Avenger as it held Shredder Evolution over the flame pit, before skirting over the flame pit itself and driving into the arena wall twice. After moving away, Trax engaged in another scuffle with The Steel Avenger and managed to throw it onto its side again. With seconds remaining, Trax came in with a side-on attack on Sub-Version 1.1, and its long drive ended up with Sub-Version 1.1 in the pit of oblivion, eliminating it from the competition and taking the other three remaining robots to a judges' decision, who sent Trax and The Steel Avenger through to the second round.
In the next round, Trax was drawn against the number 16 seeds Storm 2, which slammed its way past Supernova and Mayhem in its first round battle. Storm 2 immediately caught Trax side-on and slammed it into the arena wall before slipping underneath its opponent and lifting it slightly. Storm 2 continued its early dominance as it drove Trax head-on into the side wall again before lifting Trax up after another drive. Trax was rammed into the barrier again, before Storm 2 activated and dislodged the pit release tyre. Trax then skidded off into Mr. Psycho's CPZ, where it came under pressure from the House Robot's hammer, but managed to escape soon after. As the battle edged towards a judges' decision, Storm 2 attempted to force Trax down into the pit, but Trax held on as it skittered in and around the lip of the arena hazard. After Trax drove back into the centre of the arena, cease was called, and although Trax had managed to survive the whole battle, it was not enough to see it through to the Heat Final, and Trax was eliminated from the competition.
Series
Event
Round
Opponent(s)
Results
UK Robot Wars Series 7
Heat I
Eliminator
Shredder Evolution

Sub-Version 1.1

The Steel Avenger

Qualified
Semi-Final
(16) Storm 2
Lost
Wins/Losses
Edit
Community content is available under
CC-BY-SA
unless otherwise noted.