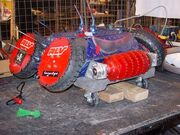 The Termite was a US competitor robot from Team Critter that competed in the second season of Robot Wars: Extreme Warriors. It was a low four-wheel driven wedge machine with its wheels set at a twenty-three degree angle for better stability. It was armed with an array of spinning weapons, with speeds of up to 3000 RPM, but it lost in the first round to Dragbot and King of Diamonds after the team forgot to charge their robot's battery. It participated in the Annihilator and Tag Team Terror with slightly more success. The team also fought with Close Enough in the first season.
The Termite also entered Robotica Season 3.0 as The Tick.
Robot History
Edit
The Termite lost in Round One against King of Diamonds and Dragbot because even though King of Diamonds ended up in the pit, The Termite ran out of battery power early on in the fight.
After a disappointing performance in the championship, The Termite competed in the Annihilator and passively made it through the first two rounds after Thor's Hammer and Hyperactive were thrown out of the arena by Cyclone. In the third round, it was more aggressive, attacking The Brute and getting under it several times. However, Cyclone struck The Termite with its disc, knocking one of its wheels off. The house robots attacked the immobilized Termite but it managed to get away with three wheels intact. At the end, The Termite ran out of battery power again and was pitted by The Brute.
It also participated in the tag team alongside General Chompsalot, and fought Hyperactive and Mechadroid in Round One. Chompsalot and Mechadroid started this fight, and Chompsalot bit down on Mechadroid's wheels, before The Termite was attacked by Hyperctive. Chompsalot pitted Hyperactive, but also pitted itself. Mechadroid fell into the pit as well, leaving The Termite the only mobile robot. In Round Two, The Termite and Chompsalot faced Black Widow and Rocky-Bot-Boa, and it was Chompsalot and Black Widow who fought each other to start this bout. The Termite pressed the pit button, but Chompsalot was pitted, along with Rocky-Bot-Boa. The Termite was lifted by Black Widow, and its wheel and weapon chain appeared damaged. It tried attacking Black Widow, but cease was called, and The Termite and Chompsalot were defeated.
Wins/Losses
Edit
Community content is available under
CC-BY-SA
unless otherwise noted.