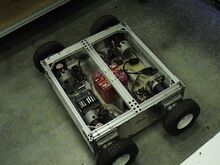 The Tartan Bot was a heavyweight combat robot built by Team Sinclair Robotics from Dayton, Ohio, which was due to compete at Rocket City Robot Assault in 2004, but had to forfeit both of its matches due to unknown technical difficulties. The Tartan Bot was a wide cuboid shaped four-wheel drive ramming robot with no active weaponry, it made up for this lack of weaponry with a strong drive chain, it is unknown if any defensive weaponry would have been added to The Tartan Bot in competition. Despite The Tartan Bot forfeiting both of its matches, Team Sinclair Robotics still competed with beetleweight The Underdog, middleweights Designed For Destruction, No Mercy, and Robo Wedgie, as well as fellow heavyweight Half Baked, which all had varying degrees of success in the competition.
Rocket City Robot Assault
Edit
The Tartan Bot's first scheduled match of the event was against heavyweight pneumatic flipper RU Sirius. Before the match, The Tartan Bot suffered unknown technical difficulties and had to forfeit, giving the win to RU Sirius and sending itself into the losers bracket.
The Tartans Bot's second scheduled fight was with drum spinner SuperFly. In SuperFly's previous match it was heavily damaged by Shederator, meaning that it also was unable to fight. As The Tartan Bot's technical difficulties weren't solved by this second fight, the win was awarded to SuperFly in hopes that it could be repaired. Unfortunately this didn't happen, meaning SuperFly wound up forfeiting its next match after this against Pinchpoint.
Wins: 0
Losses: 2 (both by forfeit)
Community content is available under
CC-BY-SA
unless otherwise noted.