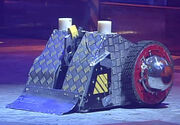 Not to be confused with the Battlebots competitor Executioner
The Executioner was the name of two competitor robots in Series 5, 7 and Extreme Series 1 of Robot Wars. The two versions had different designs and weaponry. It lost all three of its battles.
The robot was originally built for Series 4. This version had kevlar armour was not invertible as it had small wheels. It took 7 months to build, and was only just finished in time for the qualifiers. After failing to qualify for Series 4, it was entered into BattleBots under the name The Piecemaker.
Robot History
Edit
Extreme 1
Edit
The Executioner's first televised battle was in the Wild Card Warriors, where it was drawn against Dominator 2, a Semi-Finalist in the previous series. In an astoundingly comical and short battle, The Executioner attempted to hit the pit release three times before Dominator 2 pushed it into the button. As soon as the pit opened, The Executioner drove straight in, albeit with some assistance from a passing Dominator 2. This fight was actually filmed 2-3 days after The Executioner's fight against Pussycat.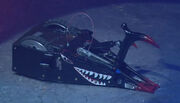 The Executioner was given one of the hardest draws in the first round - the second seeds Pussycat. However, The Executioner started promisingly, using its weaponry to grab onto Pussycat's blade and prevent it from doing damage. Eventually the favourites got free and came on the attack, slamming The Executioner into the arena sidewall. The real turning point though came when The Executioner got too close to Matilda's CPZ. The flywheel whacked the newcomers, knocking off the tip of its crushing blade, which flew up and hit the controlling box the team were standing in. The Executioner was then powerless to prevent Pussycat pushing it into the pit.
After failing to qualify for Series 6, The Executioner fought in Heat N of Series 7. In Round 1, The Executioner fought three robots from other returning teams; R.O.C.S., Topbot, and Raging Knightmare. When the melee began, the four machines met in the middle of the arena, and The Executioner's blade snapped off Topbot's spinning disc. The Executioner tried to push R.O.C.S. down, the pit, almost driving in itself. The Executioner and R.O.C.S. continued to grapple until it broke down, due to a broken Vantec speed controller. The headless Mr. Psycho hammered it on the edge of the CPZ, picked it up, and pitted it.
Series
Event
Round
Opponent(s)
Results
Robot Wars Extreme 1
Wild Card Warriors
Dominator 2
Lost
UK Robot Wars Series 5
Heat L
Eliminator
(2) Pussycat
Lost
UK Robot Wars Series 7
Heat N
Eliminator
R.O.C.S

Topbot

Raging Knightmare

Eliminated
Wins/Losses
Edit
Community content is available under
CC-BY-SA
unless otherwise noted.