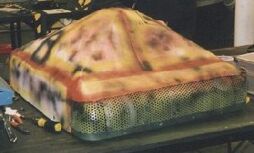 The Blob was a heavyweight robot that competed in Series 1 of Robot Wars. It made the Arena Semi-Final of the final Heat in Series 1, before losing to Skarab.
A slightly domed box robot, The Blob featured a static lawnmower blade as its ramming weapon. It could travel at 15mph but was a lot slower in practice, according to Jonathan Pearce. The Blob had a unique system where it could raise and lower its bodyshell but it never worked due to the weight of the shell. However, it could be preset to a suitable height. It could also take 12V or 24V motors.
Robot History
Edit
The Blob started quickly passing Sergeant Bash, but Dead Metal stopped it in its tracks. Unable to progress down the course, The Blob was pushed back by Dead Metal. However The Blob had covered enough distance to qualify for the Trial, which was Snooker.
The Blob was first to the balls and sent them flying. Then, The Blob seemed to break down, along with T.R.A.C.I.E. and Eubank the Mouse. The Blob qualified for the Arena as The Mouse was a Stock Robot and wasn't allowed to get to the arena stage.
In the Arena, it came up against the similarly designed robot Skarab. Neither robot was very fast, but it became clear very quickly that Skarab had the edge when it came to pushing power and it attempted an attack with its hammer but missed. Skarab's pushing power proved effective and it shoved The Blob onto the side rails where Shunt and Sergeant Bash attacked The Blob, eliminating it from the competition.
Wins/Losses
Edit
Community content is available under
CC-BY-SA
unless otherwise noted.