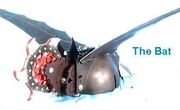 The Bat was a robot from Team Minus Zero that had an unusual design based on a bat with side wings. It had a 2500rpm vertical flywheel powered by 4 EV warrior motors. It made it to the heat final, but was easily beaten by Rocky-Bot-Boa. For unknown reasons, The Bat's flywheel was reversed (as seen in the pits photo below) in its heat eliminator and final battles so that the blunted sides of the teeth struck the opposing robot. The team previously competed in the War of Independence in the UK Series 4 and the MTV Pilot with frenZy, finishing second in both tournaments.
Robot History
Edit
The Bat was up against Rocky-Bot-Boa and Medusa Oblongotta in its first foray into Robot Wars. It managed to get several hits on Medusa, and break Rocky's top panel off, but was eventually immobilized. The Bat was then counted out by Refbot and pushed into the Pit by Sergeant Bash. However, the judges decided that Medusa Oblongata had been immobilized first so The Bat managed to go through.
In the second round, The Bat faced Mad Cow Bot. At the start, The Bat hit Mad Cow Bot with its spinning disc, flipping it straight onto its back. Mad Cow Bot came in and knocked both of The Bat's wings off. The Bat's weapon belt fell off, leaving its disc useless. However, Mad Cow Bot had lost drive in one of its wheels. The Bat used its back wedge to push Mad Cow Bot around and eventually Mad Cow Bot lost its weapon belt as well. The Bat pushed the still spinning Mad Cow Bot onto the flame pit as time ran out. The judges decided that The Bat was more mobile and let it go through to the Heat Final against Rocky-Bot-Boa.
The Bat's disc was able to spin up but Rocky-Bot-Boa avoided the disc and pushed The Bat around. The Bat was then roasted on the flame pit before Rocky-Bot-Boa eventually pushed it into the Pit of Oblivion.
Series
Event
Round
Opponent(s)
Results
Robot Wars Extreme Warriors

Season 2

US Championship

Heat B

Eliminator
Medusa Oblongata

Rocky-Bot-Boa

Qualified
Semi-Final
Mad Cow Bot
Won
Final
Rocky-Bot-Boa
Lost
Wins/Losses
Edit
Community content is available under
CC-BY-SA
unless otherwise noted.