Technophobic was a competitor in Series 2 and 3 of Robot Wars. Technophobic was defeated in the Heat Final of Series 2 by Killertron, and the second round in Series 3 by Pitbull.
The name 'Technophobic' refers to a fear of technology.
Robot History
Edit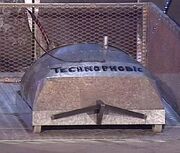 In the Gauntlet, Technophobic started by going down the centre route, and over the ramp, before Dead Metal attacked it. Shunt then axed Technophobic, preventing it from completing the course, but it went 11.3m, making it the second highest score in the challenge.
Technophobic then participated in the King of the Castle trial, where it lasted 35.95 seconds before being pushed off the ring by Shunt and Matilda, although as consolation, Matilda fell off in the process.
In The Arena stage, it faced Spin Doctor, and tried wedging underneath its opponent, who hit it with its spinning attack. Technophobic then reversed over the flames, and caught fire, but Spin Doctor also stopped, and Technophobic won on points.
This meant it met 4th seeds Killertron in the Heat Final, but its run ended here. It started well, dodging Killertron's axe blows, but Killertron pushed them onto the edge of the pit, before being pitted.
At the start of the first round battle, Abaddon was picked up by Technophobic, but Technophobic could not flip it. Abaddon used its Rotavator blades to rip off some of Technophobic's armour. Technophobic responded by ripping off Abaddon's castor and pushed the robot onto the flame pit. Abaddon was stuck on the grille of the flame pit because its tail was trapped in the mesh. Shunt attacked Technophobic, and then lifted Abaddon out of the flame pit. Technophobic then pushed it into Sir Killalot. The match went to a judges' decision, which was given to Technophobic.
In the second round, Pitbull started better and pushed Technophobic into the edge of the arena. Both robots moved around each other before Technophobic lifted Pitbull up. It was unsuccessful in its attempts to flip the dog-themed robot, though. Pitbull came charging back and drove at the edge of the arena, where its jaws got clamped to the railway sleeper at the side. Pitbull pushed Technophobic onto the flame pit. The flames reached the petrol engine and Technophobic caught fire, breaking down.
Series
Event
Round
Opponent(s)
Results
UK Robot Wars Series 2
Heat E
Gauntlet
N/A
11.3m

(2nd)

Qualified

King of the Castle
Matilda

Shunt

35.95 seconds

(3rd)

Qualified)

Semi-Final
Spin Doctor
Won
Final
(4) Killertron
Lost
UK Robot Wars Series 3
Heat B
Eliminator
Abaddon
Won
Semi-Final
Pitbull
Lost
Wins/Losses
Edit
Community content is available under
CC-BY-SA
unless otherwise noted.