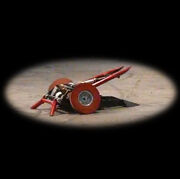 Tastes Like Burning is a robot built by Team Widowmaker that competed at RoboGames 2016, and 2017. It is a invertible, red, and silver robot with two cambred wheels for mobility, and armed with a lifter/grabber, and a propane flamethrower.
Tastes Like Burning did well in competition, winning the Lightweight Silver Medal in RoboGames 2016, and reaching the second round of the quarterfinals in RoboGames 2017. It is the successor to the teams previous robot, Guillotine.
Robot History
Edit
RoboGames 2016
Edit
RoboGames 2017
Edit
After receiving a bye in the first round, Tastes Like Burning's first opponent was Mrs. Plow. This match began with Mrs. Plow ramming Tastes Like Burning while Tastes Like Burning attempted to grab ahold of Mrs. Plow. Tastes Like Burning then grabbed ahold of Mrs. Plow by its colson, but failed to deploy the flamethrower, and Mrs. Plow got away. Mrs. Plow then started spinning in place, and delivering hits to Tastes Like Burning, which by this point had deployed its flamethrower. After some more driving by both bots, Mrs. Plow then got under Tastes Like Burning again, and attempted to take it to the wall. However Tastes Like Burning got away, and after another slam by Mrs. Plow, got ahold of it, deployed its flamethrower, and took it into the wall.Tastes Like Burning then let Mrs. Plow go before grabbing it by the wedge, and box rushing it into the arena wall once more. Mrs. Plow got away, but Tastes Like Burning grabbed it again, and took it over to the arena corner, and started roasting it with the flamethrower. Tastes Like Burning then let it go, and Mrs. Plow started spinning in place once more before Taste Like Burning grabbed it, and slammed it into the wall once again.
Mrs. Plow then shunted the side of Tastes Like Burning, the bots then charged at each other until time ran out. The judges ruled the match in favor of Tastes Like Burning, putting it in the quarterfinals where it faced Federal M.T..
Wins/Losses
Edit
Community content is available under
CC-BY-SA
unless otherwise noted.