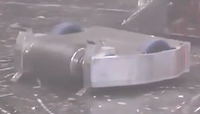 Tanaji
is an Indian robot built by Team Unicorn from Mumbai. Its a Heavyweight robot that weighs 110kg and is armed with a vertical spinning drum. It fought in the Battle of the Robots International event in 2016 where it reached the Semi-Finals.
Battle of the Robots 2016 (International Event)
Edit
Tanaji represented India in the International Event hosted by Battle of the Robots in 2016. In the first round it fought Russian robot Rake and fellow Indian robot Khashaba. Both Indian robots ganged up on the big Russian robot where they ran rings around it and landed hits on it. Khashaba's disc stopped spinning immediately and spent the rest of the fight doing what it could to act aggressive. Tanaji landed some good hits on Rake damaging the front and back ends of the machine, managed to flip it over and damaging the Russian robots axe. The fight went to the judges and Tanaji was awarded the win. and went through to the Semi-Finals and was put against Prostofilya from Brazil. It was pushed by the Brazilian opposition onto the arena wall where its tyres were off the ground and it was beached. However, as Prostofilya came in and attacked with its chainsaw, Tanajis drum which was still spinning clipped the chainsaw causing the chain to snap and come off. Tanaji was knocked back onto the arena floor as Prostofilya tried to finish it off, Tanaji attacked Prostofilya with its drum but didn't damage it and the fight went to the judges who decided that Tanaji had been immobilised after being stuck on the arena wall and was eliminated.
Community content is available under
CC-BY-SA
unless otherwise noted.