Tánshè
 (Simplified Chinese: 弹射) is a Heavyweight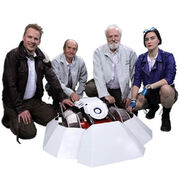 robot built by Team Enemy Alliance which consists of John Reid (
Team Hurtz
), Gabriel Stroud, and Al Cannon (
Team Legion
) as well as newcomer Samantha France. It is a white, two-wheeled, pyramid shaped robot armed with a flipping weapon that competed in the inaugural 
King of Bots
competition.
Tánshè's flipper could have its pressure adjusted mid-fight allowing it to control the power of its flips for better self-righting, and opponent control. At 35,000 Pounds it was also one of the most expensive robots in the competition. That experience, technology, and money combined together to give Tánshè an impressive victory against Dark Knight in the Round of 48.
"Tánshè has a very powerful flipper with 6 tonnes of force. It should launch opponents 2 meters in the air."
— Gabriel Stroud
Robot History
Edit
King of Bots Season 1.0
Edit
Gabriel Stroud: "Our team is an amalgamation of two great teams."
John Reid: "In the [sixth] Robot Wars in 2002, we beat Gabe's robot. He's waited fifteen years to finally beat me in the same show in 2017. I'm an old rival of Gabe, but we're teammates now."
— The history of the combined team
In the first round, Tánshè faced an invertible 8000rpm drum spinner, Dark Knight. Gabriel Stroud strategized that Tánshè should strand the robot against the wall for a knockout win.
Gabriel Stroud: "What do we want to say the most when we face our opponent in the arena, John?"
John Reid: "Best of luck!"
— The team lay down the gauntlet
This match started with Tánshè rushing Dark Knight which turned and caused Tánshè to impact the spike strips. Tánshè then got under Dark Knight, which scuffed up Tánshè's paint with its drum, Tánshè then lifted Dark Knight which got away. Tánshè then wedged into Dark Knight before plowing into it at full speed, and Dark Knight got away once more. Tánshè then attempted to ram Dark Knight once more but got its wedge caught on the floor seam near the arena saws allowing Dark Knight to escape.
However Tánshè then got to the side of Dark Knight and delivered a low pressure flip, turning Dark Knight upside-down. Tánshè then got under Dark Knight a few times and attempted to use its low pressure flips to prop Dark Knight against the wall. This failed however, and Tánshè got under Dark Knight again, and delivered a full pressure flip that sent Dark Knight multiple feet into the air. Dark Knight then landed on the spike strips, high centered, and was counted.
Gabriel Stroud: "That was our first fight together, how are you feeling, brother?"
John Reid: "Very happy. Must get that first win. Once you've got that first win, you can settle down into it. Gives you a lot of confidence. So we propose that we get to the final, we become the very first champion of King of Bots."
— Team Enemy Alliance aim for victory
This meant that Tánshè to move to the Round of 24 where it is yet to be revealed whom it fought.
Wins/Losses
Edit
Series
Episode
Opponent(s)
Round
Results
King of Bots Season 1.0
Episode 2
Dark Knight
Round of 48
Won
TBA
TBA
Round of 24
TBA
Wins: 1
Losses: TBA
Wildcards: TBA
The robots name is Mandarin for Catapult
It is implied that Gabriel knows a bit of Mandarin as the robots name is not only in Mandarin but in the post-fight interview Gabriel also spoke a phrase in the language as well.
Community content is available under
CC-BY-SA
unless otherwise noted.