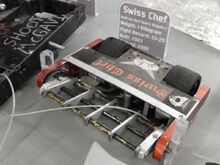 Swiss Chef was a Kilobot class robot built by Red Spark Robotics, and one of the original five kilobot-class robots to debut during the first Kilobots event. Swiss Chef used a very wide "eggbeater" style vertical spinner as its main weapon, mated to a variety of drive setups. Over the course of five years of competition, Swiss Chef accrued a very strong competition record prior to its retirement in 2008, easily being one of the most successful kilobot-class machines ever built. Although it has been over ten years since it last saw battle, Swiss Chef is frequently put on display at modern Kilobots events.
Robot History
Edit
Kilobots Premier
Edit
This was a round-robin type event.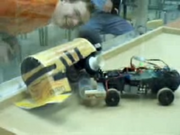 Swiss Chef's first fight was against face spinner Whirlwind of Doom. Limited footage of this fight is available, but what is shown is Whirlwind of Doom slowly advancing with its weapon at full speed as Swiss Chef attacks head on, making a loud bang and popping Whirlwind of Doom up onto Swiss Chef's beater bar, which stops as the two robots appear to have become stuck together. In the end, Whirlwind of Doom lost this fight.
Next, Swiss Chef fought four-wheeled wedgebot Zadok Destroyer. Swiss Chef won this fight.
Swiss Chef's next opponent was two-wheeled wedgebot Wedgie. Swiss Chef won this fight.
For its final opponent in the round-robin, Swiss Chef faced overhead bar spinner Robopope. Swiss Chef lost this fight.
In the end, Swiss Chef, Wedgie, and Robopope were all tied with three wins apiece. The final fight was between Robopope and Swiss Chef. Robopope won once again.
Kilobots II
Edit
Swiss Chef first faced P.O.S.. Swiss Chef won this fight and advanced.
Swiss Chef then faced The Balsa Clad Monster. Swiss Chef won this fight and advanced.
Swiss Chef's next opponent was Wedgie. Wedgie won this fight and Swiss Chef dropped into the loser's bracket.
Swiss Chef did not have any further fights this tournament for unknown reasons.
Series
Event
Opponent(s)
Results
Kilobots Premier
Main Competition
Whirlwind of Doom
Won
Zadok Destroyer
Won
Wedgie
Won
Robopope
Lost
Robopope
Lost
Kilobots II
Main Competition
P.O.S.
Won
The Balsa Clad Monster
Won
Wedgie
Lost
Kilobots III
Main Competition
Guava Movement 2
Lost
Raptor
Lost
Kilobots IV
Main Competition
Rink Rat
Won
Botweiler
Won
Deathbot
Won
Wedgie
Won
Hell's Angle
Lost
Hell's Angle
Lost
Kilobots V
Main Competition
Drago
Won
Guava Movement 3.1
Lost
Cow Catcher
Won
Botweiler
Lost
Kilobots VI
Main Competition
Ironsides
Lost
Hell's Angle
Won
Uncle Fester
Won
TK-421
Won
Wedgie
Lost
Kilobots VII
Kilobot Division
FangBot
Lost
AGOD
Won
Botweiler
Won
Wedgie
Lost
WBX-II
Kilobot Division
Mowbot
Won
TK-421
Won
Roadbug
Won
One Fierce Lawn Boy
Lost
Roadbug
Won
Kilobots IX
Kilobot Division
Obliterbot
Won
Scarab
Won
D-
Lost
RP3
Lost
WBX-III
Kilobot Division
Roadbug
Lost
Clomp
Won
RP3
Won
The Blue Duck
Won
Bot and Paid For
Lost
Kilobots X
Kilobot Division
Fangbot
Won
Venom
Won
Goliath
Lost
Underkill
Lost
WBX-4
Kilobot Division
Roadbug
Won
Bot and Paid For
Lost
Roadbug
Won
Bot and Paid For
Won
Bot and Paid For
Won
Kilobots XI
Kilobot Division
Hell's Angle
Won
Roadbug
Won
Underkill
Lost
Kilobots XII
Kilobot Division
Bot and Paid For
Won
Roadbug
Won
Bot and Paid For
Lost
Wins/Losses
Edit
Community content is available under
CC-BY-SA
unless otherwise noted.