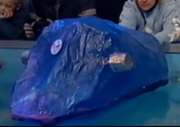 Supersonicsquiddy was a swimming competitor, from Buckinghamshire who part taken in the 2002 swimming competition. It lost in its heat to K9000 II and Nautilus Mega-Kid.
Supersonicsquiddy fought Sewme-Nator, Linford Lobster, K9000 II and Nautilus Mega-Kid. Supersonicsquiddy did well at first speeding ahead of the other opponents, however Nautilus Mega-Kid got comfortably close to the wall and managed to get a lead and get to the finishing line. Supersonicsquiddy was closing in and was looking to be taking second place, however, K9000 II was closing in. Unfortunately for Supersonicsquiddy, it broke down before it could reach the finishing line.
Community content is available under
CC-BY-SA
unless otherwise noted.