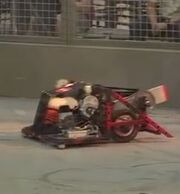 Not to be confused with The Predececessor to the famous UK robot Storm 2.
Storm (Thai: พายุ) was a robot from Thailand that competed in Group B, Line 3 at the first Seacon War of Steel. It was a red framed, two-wheeled, armorless robot with a gas powered vertical spinning bar. Unfortunately Storm's weapon never really worked, and it was destroyed in its second match by Plakrim.
Robot History
Edit
Seacon War of Steel 1
Edit
Storm's first match was against Megamind Robot. After a long, drawn out, and dull pushing match, Megamind Robot lost by a judges decision, putting Storm through to Round 2 where it faced Plakrim.
This fight started with Storm shoving the rear of Plakrim which spun up to speed, spun around, and delivered a blow to the left wheel, and bending the frame of Storm, immobilizing it. Plakrim wasn't done with storm however as ti then went in for another attack, causing even more damage, this time to Storm's left wheel. Plakrim then went in for a third attack, delivering a large blow to the rear of Storm, sending it spinning away, at which point Storm was counted out, and eliminated from the competition.
Series
Event
Round
Opponents
Results
Seacon War of Steel 1
Group B, Line 3
1
Megamind Robot
Won
2
Plakrim
Lost
 Wins/Losses
Edit
Community content is available under
CC-BY-SA
unless otherwise noted.