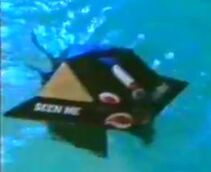 Stealth Stingray was a competitor built by the International Wreck Crew that competed in the Swimming event during Series 3 of Techno Games, but it lost in it's first heat to Roboduck and Buoy-Ant.
The team also competed in Robot Wars with Plunderbird (version 1, 2, 4 and 5, version 3 was called Plunderstorm), which performed decently. The team also competed in the Battery Sprint with Junior during Series 2 of Techno Games and placed 4th overall.
Robot History
Edit
Stealth Stingray was up against Roboduck, Jigosaurus, Buoy-Ant and Turn Turtle. Stealth Stingray started off as the slowest, being beaten by almost all the competition. However during the swim Jigosaurus became immobile and Turn Turtle drove and got itself stuck on the pool wall. As Roboduck reached the end it was then a neck and neck battle between Stealth Stingray and Buoyant, however Bouyant was the faster and came second within 35.97 seconds.
Wins/Losses
Edit
Community content is available under
CC-BY-SA
unless otherwise noted.