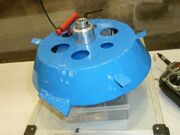 Sonic The Hedgehog
was a Hobbyweight robot from Ontario, Canada that competed from 2008-2015. It was a blue, shell spinner. Sonic The Hedgehog did poorly in competition, owing mostly to general instability, its tendancy to gyrodance, and pinball all over the arena, only winning four out of its fifteen fights as a result.
Sonic The Hedgehog was quite obviously themed on SEGA's famous mascot of the same name, even going so far as to include a soundboard for Motrama 2013 which would play the ring sound from the first Sonic The Hedgehog game. It used this soundboard to much crowd fanfare (and laughter) in its fight against Cpl Die Blase.
Robot History
Edit
Motorama 2008
Edit
Motorama 2009
Edit
Motorama 2010
Edit
Motorama 2013
Edit
Motorama 2015
Edit
Series
Event
Opponent
Round
Results
Motorama 2008
Hobbyweight Division
CheepShot 3.0
Round of 32
Lost
Remarkable Stan
Round of 28
Lost
Motorama 2009
Hobbyweight Division
Dooms Day
Round of 24
Won
Flat Line
Lost
Jumbonator
Round of 12
Lost
Motorama 2010
Hobbyweight Division
Fiasco
Unknown Round
Lost
Ignor Eater of Souls
Won
Fiasco
Lost
Ignor Eater of Souls
Grudge Match
Lost
Motorama 2013
Hobbyweight Division
Cpl Die Blase
Round of 16
Won
Zandor
Round of 12
Lost
Apollyon
Quarterfinals
Lost
Motorama 2015
Hobbyweight Division
Firefly
Round of 12
Won
Isotelus Rex
Quarterfinals
Lost
Chop Block
Lost
Wins/Losses
Edit
Community content is available under
CC-BY-SA
unless otherwise noted.