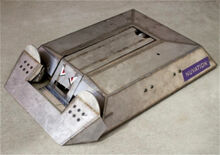 Son of Ziggy is a Heavyweight robot from Canada that competed in RoboGames from 2011 to 2013. It was a low-pronounced box shaped robot with a pneumatic 4 bar lifter, similar to former American Heavyweight Champion BioHazard. It was built by CM Robotics for RoboGames 2011 after their Super Heavyweight entry Ziggy was forced into retirement by the abolition of the Super Heavyweight Division after RoboGames 2010, having won the category five years running. Son of Ziggy was not as successful as its predecessor but more so than the team's previous Heavyweight CycloneBot and placed 4th in RoboGames 2013.
Series
Event
Opponent(s)
Results
RoboGames 2011
Heavyweight Division
Scrap Hammer
Won
Breaker Box
Lost
Preda Raptor
Won
Original Sin
Lost
ComBots Cup VI
Heavyweight Division
Blizzard
Lost
Touro Maximus
Lost
RoboGames 2012
Heavyweight Division
Original Sin
Lost
Shear Force
Won
Great Pumpkin
Won
Ragin Scotsman
Lost
ComBots Cup VII
Heavyweight Division
Blizzard
Lost
Ragin Scotsman
Lost
RoboGames 2013
Heavyweight Division
Last Rites
Lost
Super Fluffy Pink Bunny from

the land of candy and rainbows

Won
Haka Ka Mate
Won
Ragin Scotsman
Won
Brutality
Won
Great Pumpkin
Won
Sewer Snake
Lost
Wins/Losses
Edit
Community content is available under
CC-BY-SA
unless otherwise noted.