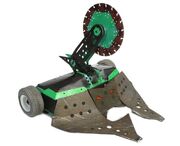 Skorpios is a robot which competed in the second season of ABC's BattleBots reboot. It was created by Orion Beach and Micah Leibowitz, who were members of the Wrecks team for Season 1. Skorpios' main weapon was its concrete saw, which was mounted on a moving arm in order to cut into other robots. Unfortunately, Skorpios was eliminated early into the tournament due to an unlucky break against Black Ice. However, it did win one rumble.
Robot History
Edit
Skorpios was one of twelve robots forced to fight in the preliminary rounds in order to qualify for the main bracket. It fought Bad Kitty and Black Ice in its match. Unfortunately, it was pushed into the screws wedge-first early into the match by Black Ice and was stuck. Despite using its sawblade to cut into the screws, leaving a 3" gash nearly halfway through, it was unable to free itself and was counted out. Black Ice won the rumble by KO and Skorpios was eliminated from the tournament.
Skorpios wasn't finished yet, however as it participated in a rumble against Bucktooth Burl and Death Roll. When the rumble started, all three robots maneuvered around before Skorpios attacked Death Roll in the corner, sending sparks flying. Eventually, Skorpios' weapon was damaged to the point that it could no longer spin freely but Skorpios kept attacking. Death Roll was repeatedly attacked by Bucktooth Burl and was flipped over before Bucktooth Burl eventually lost driving ability. Time ran out and Skorpios was declared the winner.
Wins/Losses
Edit
Community content is available under
CC-BY-SA
unless otherwise noted.