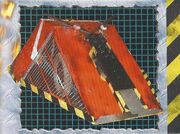 Shadow of Napalm was the third robot entered by Dartford Girls Grammar. The successor to Napalm, it fought in the Fourth Wars and lost in the second round to Dominator 2. However, for unknown reasons, Dartford Girls Grammar entered predecessor Detonator in the War of Independence, and brought Napalm back out of retirement for the following wars.
Robot History
Edit
Shadow of Napalm arrived in Series 4 as the 25th seed and was placed against newcomers Major Tom and Disc-O-Inferno. At the start of the battle all three robots charged at each other with Disc-O-Inferno's weapon causing some minor dents to the fragile armour. However, Disc-O-Inferno made contact with Shadow of Napalm and the electronics short circuited, causing the machine to turn off. Major Tom rammed Shadow of Napalm, but whilst Shadow of Napalm and Disc-O-Inferno both looked very lacking in mobility, Shadow of Napalm managed to move sluggishly away.
Shadow of Napalm was then placed against Dominator 2, with the axe-wielding robot relentlessly hammering Shadow of Napalm with its spiked axe. Holes were punched in Shadow of Napalm, and after managing to escape Sir Killalot, Shadow of Napalm broke down. Shadow of Napalm held on against Dominator 2 and Matilda to prevent itself going into the pit, before it finally went down when Killalot intervened. As Shadow of Napalm fell in, its chassis split in half.
It is possible that the damage sustained by Shadow of Napalm prevented it from being able to compete in the War of Independence after the team were called up to replace Hypno-Disc, hence why they used their original robot Detonator. The official guide for Robot Wars Extreme stated that Shadow of Napalm had been left as a "pile of junk", suggesting that the damage caused by Dominator 2 had been more severe than made apparent.
Series
Event
Round
Opponent(s)
Results
UK Robot Wars Series 4

(Seeded 25th)

Heat E
Eliminator
Disc-O Inferno

Major Tom

Qualified
Semi-Final
Dominator 2
Lost
Wins/Losses
Edit
Community content is available under
CC-BY-SA
unless otherwise noted.