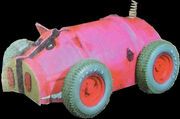 Robopig was a competitor that fought exclusively in Series 3 of Robot Wars. As its name suggests, it was designed to look like a pig, with its main weapon coming out of the "snout"- a large hinged spike that could lift up and also bludgeon its opponents, referred to as a "Vicious Piggy Lick" by the team and "paintbrush" mascara for the eyelashes. The robot had a plastic shell, a light alloy honeycomb "nose" and was quite powerful, utilising its four-wheel drive to good effect in its first round battle against Bulldog Breed, each wheel also had electromagnetic brakes but was slow at 4mph. Other than this victory however, it didn't fare too well in its sole competition, losing in Round 2 to Napalm after it drove up the front shovel and turned itself over, despite the robot also having a small spring attached to the back as a tail to act as a wheelie bar.
Robot History
Edit
In the first round of Heat G of the Third Wars, Robopig was placed up against fellow newcomers Bulldog Breed, this battle was fairly easily won by Robopig. Bulldog Breed was incredibly slow to get off the mark, and a sluggish shoving match ensued, until Robopig eventually pushed Bulldog Breed into one of the CPZs. Bulldog Breed was deemed immobilised, before house robot Shunt hacked its top, sending the bulldog into submission. Cease was soon called, putting Robopig through to the second round of the Heat, which saw them go up against previous Semi-Finalists Napalm.
Before this battle, Daniel described Napalm as 'a pile of junk', which Dartford Girls Grammar captain David Crosby humourously agreed on. In the battle itself, Robopig was fairly aggressive until it drove up its front ramp and turned itself onto its back, turning over when it reversed. Sir Killalot speared Robopig on its lance and drove to the flame pit. Sir Killalot then caught fire, and cease was called while the flames were put out, eliminating Robopig from the competition.
Series
Event
Round
Opponent(s)
Results
UK Robot Wars Series 3
Heat G
Eliminator
Bulldog Breed
Won
Semi-Final
Napalm
Lost
Wins/Losses
Edit
Community content is available under
CC-BY-SA
unless otherwise noted.