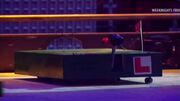 Ripper's Revenge was a box shaped middleweight robot armed with a small pickaxe, that took part in the Middleweight Melee in Series 3. It originally entered the Middleweight Championship, but the event was cancelled after an accident in the pits. The robot sported the same "L" for learning sticker that was on Ripper. It fell victim to the arena spike before being tortured by Shunt.
The original Ripper was a featherweight robot and also the team's first entry in Series 2, which lost in the featherweight category to Demolisher.
Robot History
Edit
Ripper's Revenge rammed into the reigning middleweight champions Hard Cheese, whose hammer didn't affect Team Ripper's robot. It then tried to shove Hard Cheese whilst Hard Cheese itself was being gobbled up by Tentoumushi. Ripper's Revenge then sluggishly turned away in time with Tentoumushi to attack them to use its own axe to hit Tentoumushi, but did no damage. It went underneath Tentoumushi, who then had its decorative antenna snapped off by Matilda. A-Kill then pushed Ripper's Revenge onto the arena floor spike, and was held there as power seemed to go rapidly, the arena spike rocked it several times before it then got flipped over by it. Shunt axed through its baseplate before holding it over the arena spike which rapidly fired into the top of the robot, shaking its armour loose. As Shunt held it over the spike again, the bodyshell became even more loose and was coming apart from the chassis.
Wins/Losses
Edit
Community content is available under
CC-BY-SA
unless otherwise noted.