Ripper was a competitor that has been around since 2003 where it was built for Robot Wars Series 7. It was armed with a big flipper that never achieved throwing another robot out the arena in Robot Wars despite achieving this a lot in Roaming Robots events. In Series 7 of Robot Wars it reached the heat final where it was beaten by Firestorm and it also reached the annihilator final as well where it got beaten by Kan-Opener. The robot also took on the house robots showing them who's boss in the show as well. At the team's own events, Ripper has had some success but always came out with bad results when it met Terrorhurtz where Team Hurtz's machine chopped off bits of polycarbonate with its axe making it fly everywhere, because of these issues and the fact it was getting old, Ripper has now retired and John Findlay the team captain currently fights with an improved version called Ripper Evo.
As of 2008, its was rebuilt Ripper Evo. Since its 1st event as Ripper Evo it has become a fan favourite. Notable for flipping robots out of the arena in quick time and also managed to win the 2008 Winter tour and reaching the Grand Final in the 2010 UK Championships eventually beaten by Iron-Awe 5. After changing it's name back to Ripper in 2011, it shortly won the 2011 UK Championships.
After the announcement of the 2017 series, John Findlay revealed that Ripper was "not allowed" to compete in the rebooted Robot Wars due to it being "unfair" to other competitors, as he is the owner of a live roboteering event that formerly used the Robot Wars brand.
Robot History
Edit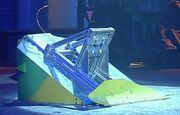 In Round 1 of Series 7, Ripper fought veterans to Robot Wars Aggrobot, Team Ming's Zorro and twice Round 1 drop-outs Reptirron The Second. Ripper started by avoiding the other robots. However, a few seconds later, Ripper flipped Zorro over. Ripper then flipped Aggrobot with force but it was invertible. Ripper tried to flip Aggrobot, missing but managed to flip it again a few seconds later. Another flip from Ripper and Aggrobot bounced off Reptirron The Second. Ripper let Aggrobot and Reptirron do the fighting for a while, seemingly taking a break from the action. Ripper then rammed into Reptirron, missing another flip. Ripper then chased the other two robots and Zorro who was counted out, but never used its flipper while chasing the rest. Cease was called after Zorro was pitted. The judges decided that Ripper and Reptirron The Second would go through.
In the second round, Ripper was pitted against fellow newcomers Daisy-Cutter. Ripper started by flipping Daisy-Cutter over right at the start, in the quickest immobilisation ever. Ripper left Daisy-Cutter on its side to be counted out. Then, Ripper flipped Shunt. However, it landed on its wheels. Ripper then used its flipper to block Shunt's axe from hitting its armour. Sir Killalot came in to help Shunt out by pinning Ripper against the wall. Sir Killalot pushed Ripper to the flame pit but to no avail. Then, it flipped Refbot almost onto its back, but, thanks to inadvertent help from Shunt, managed to get it over. Ripper then flipped Shunt over and got its axe stuck on Sir Killalot's lance, causing Sir Killalot's breastplate to come off. Ripper drove around the arena and was flipped by the floor flipper. Sir Killalot then pushed Ripper into the pit.
In the heat final, Ripper went up against the second seeds Firestorm 5. Before the match, Team Firestorm had casually warned Team Roaming Robots not to attack the house robots if Ripper won the battle. Ripper was rammed into the arena side-wall by Firestorm 5, ending on its back. Ripper self-righted and started dodging Firestorm 5 until it missed a flip and Firestorm got underneath. Getting flipped against the arena wall again, Ripper was stuck. Refbot then counted Ripper out. Firestorm 5 finally finished it by flipping Ripper out of the arena.
Team Roaming Robots consider it a lucky break that Ripper was flipped out of the arena, for Team Firestorm had pledged to destroy Ripper should they win the match, with assistance from the House Robots, as a form of vengeance for Ripper's attacks in the second round.
Ripper returned for the Annihilator at the end of the Seventh Wars. It fought Ewe 2, Raging Knightmare, Kan-Opener, Robochicken and Flippa. Ripper managed to purge the arena in its opening round, managing to flip Robochicken over immediately, before rushing Ewe 2, who was attacking Flippa. In a skillful flip, Ripper threw Ewe 2 over, sticking its open flipping arm over the side wall, and pinning it on top of Flippa, effectively immobilising both robots. It then attacked Raging Knightmare and Kan-Opener, flipping both into side walls and CPZs, but these two managed to escape, and the fight was finally concluded with the defeat of Robochicken.
However, Flippa was announced to have broken down irreparably, and was forced to drop out, leaving the remaining four to fight on. Ripper was one of the more aggressive in its next fight, immediately targeting Raging Knightmare due to its ability to flip Ripper into positions it cannot self-right from. Raging Knightmare was tossed around the arena by Ripper in the opening stages, and the four active robots met together, all to launch an attack on Raging Knightmare. However, while the targeted machine self-righted, Ripper flipped Ewe 2 onto its own raised flipper, causing the robot to be left stranded on its side. With Ewe 2 immobile, Ripper progressed, even though Raging Knightmare was almost pitted before Ewe 2's official immobilisation.
In the next battle, Jonathan Pearce remarked that Team Roaming Robots were good friends with Kan-Opener's team. This proved to be telling, as Ripper and Kan-Opener formed an immediate alliance to dispose of Raging Knightmare. Ripper started the early effort, tossing Raging Knightmare through the air, and towards the flame pit. Once Kan-Opener had brought Raging Knightmare over the pit, Ripper helped Kan-Opener free itself from its prey by bashing into the back of it repeatedly. The two robots then met in the final.
In the Annihilator final, Ripper started off as the more aggressive getting a series of flips in on Kan-Opener before losing a chain for one of its wheels, causing it to run in circles. It was attacked by Mr. Psycho, crushed by Kan-Opener and Refbot then counted Team Roaming Robots down and out, meaning Kan-Opener retained the title.
Live Events
Edit
It fought in many battles, mainly rumbles and whiteboard matches. In one fight it had half of its side panel torn away by Pussycat.
2004 UK Championships (Winter Tour)
Edit
Ripper took part in all the qualifier shows at Newport, Edinburgh, Worcester & Kings Lynn where its success was good. It defeated Kronic at Newport flipping it out the arena and Dantomkia at the same event by flipping it around the arena until it ran out of gas to self-right. It met Terrorhurtz in one of the qualifiers where it was brutally smashed but after all the qualifier shows, Ripper had gained enough points to make the finals at Doncaster. In the first round, it met Kronic where it flipped it all over the arena before throwing it out of it. In the Quarter-Finals, it met Terrorhurtz again who defended itself and always self-righted after being flipped by Ripper. Ripper then got trapped against the arena wall where it was an open target for Terrorhurtz to hack at it and send it packing.
2005 UK Championships (Winter Tour)
Edit
Ripper came back for the UK Championships 2005 seeded 5th, it had an easy win over Edge Hog in its qualifier match at Macclesfield where it threw it around the arena before throwing it out of it. It's next qualifier match was at Birmingham against Kronic where Ripper had problems with its own flipper and couldn't use it, it was thrown around by Kronic before being flipped out the arena. Again it earned points into the finals at Folkestone where it was drawn against the foreign Tough As Nails, Tough As Nails, grabbed Ripper from the back and send it down the pit where it couldn't get out eliminating it.
2006 UK Championship
Edit
Seeded 11th, Ripper came back for the 2006 UK Championships which was the first big major competition to be held outside Robot Wars. It won 2 fights in its pod against Tilly and Mesh but lost to Dantomkia. Dantomkia had lost another fight meaning Ripper had tied on points with Dantomkia meaning they had to fight again, Ripper this time managed to get Dantomkia out the arena after a few flips. In Round 1 of the finals, Roaming Robots's resident robot met Behemoth where it lasted a matter of seconds before Ripper turned it over, shoved it to the wall and threw it out. It failed to make an impact on Turbulence in the Quarter-Finals who threw Ripper around the arena before it was flipped out. It performed well in the loser's melee with Beast and PulverizeR but its own scoop lost a screw which made it flap off and Ripper was also losing maneuverability near the end which never allowed it to survive the judges decision.
2006 Winter Tour
Edit
Ripper qualified for the finals situated at Folkestone where it won the first round against reigning champion Kronic very easily after it had flipped itself out the arena. Ripper then met Merlin in the Quarter-Finals who flipped Ripper out of it.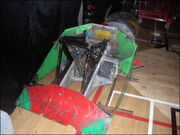 2007 UK Championships
Edit
Ripper now at 4 years old had come back for the 2007 UK Champs, it won its 2 fights in its pod against Obsidian and Hive. In the First round of the finals, it met Envy who it managed to flip over near the wall from where it couldn't self-right so it progressed on to the Quarter-Final where again it met Terrorhurtz, again Terrorhurtz severely damaged Ripper and it was eliminated from the tournament. This was the first version of Ripper's last tournament before Ripper Evo came along as a replacement.
2008 UK Championships
Edit
Ripper Evo signed up to the 2008 Championships. In its 1st round, it flipped Tilly Ewe 2 out of the arena. Then it proceeded to flip Obsidian out of the arena in under 10 seconds. Then raised the bar again as Ripper Evo flipped Apocalypse out of the arena within 6 seconds. But then disaster struck when in the semi-finals it was flipped out of the arena by Dantomkia almost immeadiatly. Then lost the play-offs to fallen champions Big Nipper when it lost drive to a wheel.
2008 Winter Tour
Edit
Ripper Evo also took part in the 2008 Winter Tour, it defeated Meggamouse after it had problems with its own weapon and maneoverability which enabled it to qualifiy for a place in the finals at Maidstone. In the first round it got beaten by defending champion Iron-Awe 5 after it was thrown out of the arena but came back in the competition after it flipped Beast and Chompalot out of the arena in the loser's melee. Next it took on Beast again in the quarter-finals where it managed to immobilise it and got revenge on Dantomkia for the defeat at the UK Champs in the same way. In the grand-final, it took on Terrorhurtz who gave Ripper Evo a pounding but Ripper Evo held its own back as it flipped Terrorhurtz all over the arena until it ran out of gas and couldn't right itself. Here, Ripper Evo claimed the Winter Tour 2008 Championship title.
2009 UK Championships
Edit
Ripper Evo also signed up to the year-long UK Championships of 2009, it won its first fight at Barnsley without turning a wheel as Puck their opposition pulled out due to problems. Next at Cardiff it lost its battle to Barbaric Response after breaking down and lost its next battle in Brentwood after it was ganged up on by Iron-Awe 5 and Iron-Awe 6. In its next battle at Swindon it managed to beat Cabrakan and Hortron but lost its next battle to Meggamouse at Guildford after it ended in the pit and its next fight at Portsmouth to Iron-Awe 5 the defending UK Champion. Next in its last qualifier match at Maidstone, it immobilised Orrion and lost to Beast after its flipper bended every time it used it. Ripper Evo was one of the robots that made it through to the finals at Wigan, it took on Iron-Awe 5, Big Nipper and Meggamouse in the first round. It did well flipping Iron-Awe 5 over once and then teaming up with the other 2 robots to push the defending champion down the pit and it remained with the other 2 robots for a judges decison, but Ripper Evo lost it as Big Nipper was the more aggressive.
2010 UK Championships
Edit
Ripper Evo had been signed up for the 2010 UK Championships as the 3rd seed, it beat Apocalypse and Hydra on a judges decision at its first qualifier match at Barnsley and won its next fight against Anger and Tanto at Whitwick. It won its next battle at Nottingham as well against Stinger, and earned a place in the 2010 Semi-Finals at Portsmouth. John Findlay rebuilt Ripper Evo completely before the event, and pitted Big Nipper in their battle, advancing onto the Grand Final at Maidstone. In their Quarter Final, the newly rebuilt Ripper Evo threw itself out of the arena when they fought Maelstrom, but managed to make it to the Semi-Finals by defeating Tilly Evo & Meggamouse (on a judges decision) in the Losers Melee, and then throwing Iron-Awe 6 out of the arena in the Semi-Finals. In the 2010 Grand Final, Ripper Evo looked on top against Iron-Awe 5, but then got a gas leak and was unable to self-right, and Iron-Awe flipped them out of the arena, Ripper Evo finishing 2nd in 2010.
2011 UK Championships
Edit
Ripper Evo was renamed back to Ripper in 2011, and began the 2011 UK Championships as the 2nd seed. They were drawn against Batterbot, TerrorHurtz & Envy in their Heat, and despite being a double UK Champion, TerrorHurtz was flipped out of the arena by Envy in less than 5 seconds, and Batterbot soon followed, flipped out by Ripper. Ripper then proceeded to flip Envy around the arena constantly until they were finally pitted. In round 2, Ripper once again met Envy, who'd managed to win a Losers Melee to gain entry into the next round, Maelstrom, & Tilly Evo. Ripper immediately piled all of the robots into one corner, and flipped out Envy. Tilly Evo was counted out, and then Ripper threw Maelstrom out as well! In the Quarter Finals, Ripper met Maelstrom again, as they had both gone through, and at first Ripper tried to conserve the gas, but Maelstrom was on top, so Ripper started flipping them around, and finally got them out of the arena.
Other Events
Edit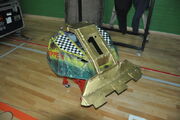 Ripper reached the final battle of the competition, and finished fourth overall. It also reached the final of the Robot Wars Championship 2013 event held at Portsmouth where it reached the final losing to Eruption. Ripper was seeded 6th for the Robot Wars UK Championships 2013 held at Newport where it reached the semi-finals beating Tanto & Iron-Awe 7 in the heats before losing to Behemoth in the semi-finals and finished fourth. It was also the top seed for the Winter Tour 2013 held at the end of the year, here it did really well winning its primary heat against Meggamouse & Maelstrom. In the finals at Gloucester, it won its quarter-final battle by pinning Eruption against the wall and immobilised Saint in the semi-finals. It dominated the grand-final flipping Manta all over the arena until Manta flipped Ripper into the pit and prevented it from escaping in its attempts.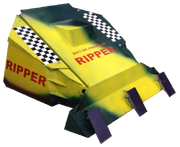 Ripper also participated in the Robot Wars World Championships 2015 held at Colchester and fought Gravity, Gripper and Toxic 2, but it fell in this stage due to it being immobilised after self-righting up into the arena wires, where it got caught and dangled comically. It also participated in a separate Annihilator contest at the same event where it did well, flipping Luzifer into the pit in the second round and getting lots of good attacks on the others. In the next round, it did well again, managing to escape the pit, but was immediately pushed back in again and eliminated, placing 4th.
Ripper made an explosive 2016 debut, going undefeated and flipping five robots out of the arena in the first Manchester show, two of those flips being head-to-head victories over Eruption, the first battle of which was concluded in mere seconds. Although Eruption would eventually win the Manchester leg of the tour, Ripper would place first at the next two events. Ripper also won the final Robot Wars live event in Maidstone, defeating Dystopia in the final.
In 2016, Ripper won The World of the Robots event, hosted in Dublin, where it defeated Beast in the final, even defeating another of John Findlay's robots, Halo, in an earlier round. At the 2017 Mechatrons event in Dublin, Ripper defended its title, defeating King B Remix in the semi-final, and Iron-Awe 7 in the final.
Series
Event
Round
Opponent(s)
Results
UK Robot Wars Series 7
Heat P
Eliminator
Aggrobot

Zorro

Reptirron the Second

Qualified
Semi-Final
Daisy Cutter
Won
Heat Final
(2) Firestorm 5
Lost
Annihilator
Round 1
Flippa

Kan-Opener, Ewe 2

Raging Knightmare, Robochicken

Qualified
Round 2
Flippa

Kan-Opener, Ewe 2

Raging Knightmare

Qualified (By Default)
Round 3
Kan-Opener

Ewe 2

Raging Knightmare

Qualified
Round 4
Kan-Opener

Raging Knightmare

Qualified
Final
Kan-Opener
Lost
Roaming Robots Winter Tour 2004
Round 1 - Newport
Qualifier
Kronic
Won
Qualifier
Terrorhurtz

Merlin

Won
Qualifier
Dantomkia
Won
Round 2 - Edinburgh
Qualifier
Terrorhurtz

Dantomkia

Big Nipper

Won
Qualifier
(1) Ewe 2

Merlin

Won
Qualifier
Mighty Mouse

(2) Mute

Won
Round 3 - Worcester
Qualifier
(4) Big Nipper

Iron-Awe 2

Lost
Round 4 - Kings lynn
Qualifier
Pressure

Toxic

Lost
Qualifier
Pressure

Toxic

Velocirippa

Won
Finals - Doncaster
Round 1
Kronic
Won
Quarter-Final
Terrorhurtz
Lost
Loser's Melee
(2) Mute

Storm 2

Lost
Roaming Robots Winter Tour 2005 (Seeded 5th)
Round 3 - Macclesfield
Qualifier
Edge Hog
Won
Round 4 - Birmingham
Qualifier
(6) Kronic
Lost
Finals - Folkestone
Round 1
Tough As Nails
Lost
Fighting Robots UK Championships 2006 (Seeded 11th)
Heat J
Head to Head
CCWO2
Won
Head to Head
Tilly's Revenge
Won
Head to Head
Dantomkia
Lost
Heat Final
Dantomkia
Won
Finals
Round 1
(3) Behemoth
Won
Quarter-Final
Turbulence
Lost
Loser's Melee
(4) Beast

PulverizeR

Lost
Fighting Robots UK Championships 2007 (Seeded 7th)
Heat H
Head to Head
Hive
Won
Head to Head
Obsidian
Won
Finals
Round 1
Envy
Won
Quarter-Final
(5) Terrorhurtz
Lost
Fighting Robots UK Championships 2008 (Seeded 7th)
Qualifier
TillyEwe 2
Finals
Round 1
Obsidian
Won
Quarter-Final
(6) Apocalypse
Won
Semi-Final
(4) Dantomkia
Lost
3rd Place Play-Off
(1) Big Nipper
Lost
Fighting Robots UK Championships 2009
Round 1 - Barnsley
Qualifier
Puck
Won (By Default)
Round 3 - Brentwood
Qualifier
Iron-Awe 5

Iron-Awe 6

Lost
Round 4 - Swindon
Qualifier
Cabrakan

Hortron

Won
Round 5 - Guildford
Qualifier
Meggamouse

Tilly 2 Evo

Lost
Round 6 - Portsmouth
Qualifier
Iron-Awe 5

Thor

S.M.I.D.S.Y.

Lost
Round 7 - Maidstone
Qualifier
Beast

Orrion

Lost
Finals - Wigan
Round 1
Iron-Awe 5

Meggamouse

Big Nipper

Lost
Fighting Robots UK Championships 2010 (Seeded 3rd)
Round 1 - Barnsley
Qualifier
Apocalypse

Hydra

Won
Round 2 - Whitwick
Qualifier
Anger

Tanto

Won
Round 3 - Nottingham
Qualifier
Stinger
Won
Round 5 - Brentwood
Qualifier
Hydra
Won
Round 6 - Norwich
Qualifier
Scorpion
Won
Semi-Finals - Portsmouth
Round 1
(2) Big Nipper
Won
Finals - Maidstone
Quarter-Final
(1) Maelstrom
Lost
Loser's Melee
(6) Tilly 2 Evo

(4) Meggamouse

Won
Semi-Final
Iron-Awe 6
Won
Grand-Final
(7) Iron-Awe 5
Lost
Fighting Robots UK Championships 2011 (Seeded 2nd)
Heat B
Terrorhurtz

Envy

Batterbot

Won
Finals
Round 1
Envy

Tilly 2 Evo

(4) Maelstrom

Qualified
Quarter-Final
(4) Maelstrom
Won
Semi-Final
(1) Iron-Awe 5
Won
Grand-Final
Envy
Won
Fighting Robots UK Championships 2012 (Seeded 1st)
Heat A
Bulldog Breed
Won
Quarter-Final
(8) Toxic 2
Lost
Fighting Robots European Championships 2013 (Seeded 5th - Representing UK)
Heat E
Manta (UK)

BullFrog (Holland)

Lost
Fighting Robots UK Championships 2013 (Seeded 6th)
Heat D
TillyEwe 3

Noisy Cricket

Won
Quarter-Final
Manta
Lost
Fighting Robots UK Championships 2015
Heat G
Gabriel

Maelstrom

Won
Quarter-Final
(3) Manta
Won
Semi-Final
(1) Eruption
Lost
3rd Place Play-Off
(4) Toxic 2
Lost
Wins/Losses
Edit
Community content is available under
CC-BY-SA
unless otherwise noted.