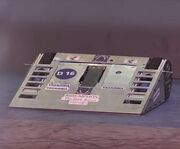 Resumption The Dark Raven
 (Thai: การเริ่มต้นใหม่ที่มืดกา) was a robot built by students from Thailand that competed at the first Seacon War of Steel. It was a silver, and red, two-wheeled, invertible, weaponless, wedge-shaped robot. Resumption The Dark Raven was quite fast, able to get up to at least 15mph. However it performed poorly in competition, despite getting to Round 2 it still managed to go 1-2 after losing to Granddaughter goddess twice in Round 2.
Robot History
Edit
Seacon War of Steel 1
Edit
Resumption's first match was against Ole Ole in Line D, Group 3. This match started with Resumption tentatively shoving Ole Ole before darting in, and flipping the topheavy robot on its back. Ole Ole was then shoved against the wall, and was counted out after being pinned by Resumption.
This put Resumption through to Round 2 where it faced Granddaughter goddess. This match started out strongly for Resumption, which bolted out of its square top speed, and started slamming Granddaughter goddess around the arena. However 1 minute, and 30 seconds into the fight Resumption lost drive on the right side, and time ran out with neither robot hitting each other for the remainder of the match. Round 2 of the match started with Resumption suffering the same drive issues, and it was counted out shortly after the start of the fight.
Series
Event
Round
Opponent(s)
Results
Seacon War of Steel 1
D Line, Group 3
1
Ole Ole
Won
2
Granddaughter goddess
Lost
Lost
Wins/Losses
Edit
Community content is available under
CC-BY-SA
unless otherwise noted.