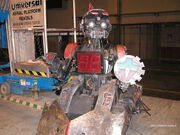 Refbot was a non-attacking House Robot introduced to Robot Wars as the robotic referee of the show in Series 4. He was built to resemble a human being wearing a white-striped shirt and equipped with a headset microphone. In past series, the house robots would sometimes unstick stranded competitors, or otherwise intervene, which contradicted their antagonistic characterisation. To avoid confusing the audience, Refbot was introduced to handle fair play and rule enforcement. In addition to this role, Refbot took over Shove's job of "cleaning up" after the fights; sweeping broken robot debris from the arena, and pushing immobilised robots to where they could be collected by their often distraught owners.
At one stage of Robot Wars, it is possible that Refbot was driven by Mike Franklin of Team 101.
In March 2016, the BBC confirmed that Refbot alongside Cassius Chrome, Growler, Mr Psycho and Sgt Bash will not return for the 2016 series.
Attributes
Edit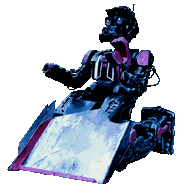 While not made for combat, Refbot came equipped with a multitude of gadgets:
A pair of bulldozing shunts in the front and back were made for separating robots that became locked together.
An electronic countdown board was mounted on Refbot's chest to count out the defeated robots. This was introduced in Extreme 1, and for Series 5 it was slowed down.
A fire extinguisher on the right arm to put out fires.
A pincer grip on the left arm to help robots when jammed (Series 4 only).
Three lights in the shape of the Robot Wars logo; one red, one yellow and one green. This replaced the pincer on his left arm at the start of Robot Wars Extreme. The green light would show at the start and end of every battle. In addition, if another House Robot "misbehaved" (i.e., attacking a competitor when it wasn't supposed to) Refbot would give the offender a yellow card, and if it persisted, a red card, which forced the house robot to stay in its CPZ for the remainder of the match. The red card was also shown once a competitor robot had been counted out and if a contestant acted too over-aggressively against the house robots. The red card was also displayed if a competitor robot didn't enter the arena. This is most notable when thUnderpants failed to enter the arena and Jonathan Pearce says 'Red card. No entry.'
Community content is available under
CC-BY-SA
unless otherwise noted.