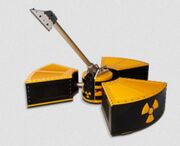 Radioactive was a heavyweight robot which competed in the first season of ABC's BattleBots reboot. It was built by Team Make Robotics, a British team most well-known for their Robot Wars entry Behemoth. Radioactive was designed to look like the trefoil symbol for radiation, and featured an overhead swinging axe, plus adjustable drive pods that acted as a clamp. It performed well, although it was mostly built out of plastic, which made it especially vulnerable against Tombstone.
Robot History
Edit
In its first battle, Radioactive was drawn against the all-girls team of Sweet Revenge. However, Sweet Revenge suffered from technical issues, leaving it with no weapon and little mobility. This allowed Radioactive to hit Sweet Revenge with its axe several times. After this, however, Radioactive begun to lose mobility, and started to move very slowly, also losing power to the weapon. According to the team, Radioactive finished the battle immobilised. The time ran out, and Radioactive won on a unanimous 3-0 judge's decision, despite being unable to move at the end, as it had earned more damage and aggression points with its initial attacks.
In the round of 16, Radioactive was given the lowest seeding possible, No. 16, despite arguably outperforming robots such as Chomp in the first round. This meant that Radioactive would be drawn against the top seed, Tombstone. Radioactive attempted to play a defensive match, by applying extra plastic to the robot, and stabilizing its adjustable drive pods. At the start of the match, Radioactive mostly spun on the spot, while Tombstone taunted it by driving around without using its weapon. As soon as Tombstone started to use its weapon on Radioactive, major damage was sustained, and Radioactive was quickly knocked out at 1:09. Later, the Radioactive team signed a piece of their robot broken off by Tombstone and gave it to Hardcore Robotics.
Series
Round
Opponent(s)
Results
ABC BattleBots 2015
Round of 24
Sweet Revenge
Won
Round of 16
Tombstone
Lost
Wins/Losses
Edit
Community content is available under
CC-BY-SA
unless otherwise noted.