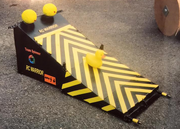 RC Warrior was a featherweight robot that was entered into the Featherweight battle in the first series of Robot Wars Extreme. It lost its only fight, and the Extreme 1 Featherweight Championship, to Beef-Cake.
A featherweight successor to RC Warrior, RC2, qualified for the Featherweight Championship in Series 7, but was forced to withdraw due to technical problems.
The team were referred to as "Team Warrior" on their website, although RC Warrior itself has "Team Spinner" written on it.
Team Warrior also attempted to enter Series 6 of Robot Wars with a heavyweight called RCX, which would be armed with a pneumatic flipper and rear spike plate, and powered by 24V drive and a 12V Windscreen wiper motor. However, it is unknown if the robot was ever completed, or, if it was, how it failed to qualify.
Robot History
Edit
Extreme 1
Edit
RC Warrior started reasonably, threatening the speedy Beef-Cake with its spikes. However after that RC Warrior could not get hold of Beef-Cake, who was by far the quicker machine. After a short period of avoiding some counter-attacks from Beef-Cake, and being pushed into an empty CPZ, RC Warrior stopped moving, atop the unopened pit. This allowed Beef-Cake to release the pit, causing RC Warrior to slowly sink to its inevitable fate at the bottom of the pit, defeating it. This could be considered a blessing in disguise, as RC Warrior was protected from the House Robots which proceeded to flatten the victorious Beef-Cake.
Brighton Model World 2002
Edit
Here it battled and lost to its own successor, RC2.
Wins/Losses
Edit
Community content is available under
CC-BY-SA
unless otherwise noted.