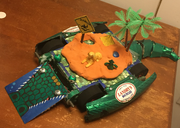 Quicksand was a beetleweight robot that first competed in Robogames 2016. It was built from a Trilobite kit, and was armed with an aluminum wedge. The robot had an Egyptian motif, designed to look like a Nile crocodile with a desert vista on top. Custom features included a segmented swishing tail made from pieces of aluminum connected with cable ties, wheel guards cut into three pieces instead of one, and side bumpers made from a bicycle tire. The desert vista was made from Crayola Model Magic with a combination of figurines and handmade decorations - palm trees being the only constant in the various versions. The "quicksand pit" was incorporated to provide access to the power switch. This decoration was removed for fights against robots with flipping capabilities, to allow invertibility. A gold scale was painted on the snout for every win the robot achieved.
Robot History
Edit
Quicksand's Robogames debut fight was against PHS9. Quicksand got underneath early, and slammed PHS9 into the wall a few times, briefly getting the robot caught on its "Danger" sign before inverting it. It then carried its opponent over to the wall with a hard hit, that left PHS9 stuck on its back, immobilized. Next, Quicksand faced Red Dragon. The match was a fairly even in the first minute, however, Red Dragon managed to get underneath Quicksand and drop both its wedge and tail underneath the body, meaning it was high-centered when it tried to go in either direction. From then on, Quicksand struggled to get underneath, and Red Dragon dominated the match. Quicksand got itself stuck in the gap between the floor & wall in the final seconds, and the judges' decision went against it.
Quicksand also participated in two exhibition matches. The first was a grudge match against Mondo Bizarro. Quicksand started off tentatively pushing it around, having the lower clearance working in its favor. However, a hit from Mondo's drum caused its wedge to lock in the "up" position. Mondo struck the exposed wedge-hinge and flung Quicksand out of the arena. The two robots then teamed up for a tag team battle against Medow and Robot Fighter. Quicksand's speed controller was improperly calibrated, and the robot could only move intermittently. However, one of the D2 kits drove out of the arena, and Mondo pushed out the other, making Quicksand technically the co-winner. Mondo kicked it around before pushing it out of the arena and taking a bite out of its desert decoration, which had fallen off. One of the D2 kits managed to boost the other back into the arena, and push out Mondo.
Wins/Losses
Edit
Community content is available under
CC-BY-SA
unless otherwise noted.