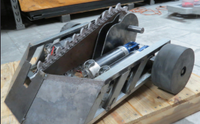 Prostofilya
is Brazilian Heavyweight robot that weighs 105kg and was built by Team Androidoss from Sao Paulo. It's a silver wedge-shaped robot armed with a chainsaw weapon that can move at 180 degrees meaning it can also act as its self-righter.
Battle of the Robots 2016 (International Event)
Edit
Prostofilya entered the International event of 2016 hosted by Battle of the Robots in Russia where it represented Brazil. In its first round battle it fought two Russian robots in the form of Gnutel 3.0 and Comet. It got under Gnutel 3.0 and nearly tipped it over using its movable chainsaw but didn't succeed, it ended up with its chainsaw stuck in Gnutel 3.0's bodywork. It struggled the whole time to turn it over and nearly got it over the screws at one point. The battle had to be stopped where the two robots got separated and the fight was restarted. Meanwhile Comet had broken down so the fight was between Prostofilya and Gnutel 3.0. It stood up to the axe blows from Gnutel 3.0 very well and held on until the judges decision where it was given a joint win with its Russian opposition. Next it fought its Semi-Final fight with Tanaji from India. Both robots got their weapons up to speed, Prostofilya started the more dominant where it jammed its Indian opposition against the arena wall where it got stuck for a moment. Prostofilya spun up its chainsaw and brought it down on top of Tanaji who's drum was still spinning clipped Prostofilyas chainsaw breaking the chain disabling it. Then in an attempt to push it over the arena wall, Tanaji was knocked back onto the arena floor meaning it could run around again and bashed at Prostofilya a few times with its drum. But Tanaji had already been immobilised meaning that Prostofilya was awarded the win. It went through to the final where it faced two Russian robots in Weber & Destructor without a weapon due to the damage from its last fight from Tanaji being to much. Destructor was immediately on its back and out and Prostofilya was also targeted by Weber who got a flip on it but Prostofilya self-righted. Weber tried to flip Prostofilya from the front but it was too low at the front and Weber would often flip itself over. Weber threw Prostifilya on its back again and it ran around on its already disabled chainsaw in a comical fashion before Weber righted it. It managed to shove Weber around near the end of the fight and held its own. But the judges went in favour of Weber.
Series
Event
Round
Opponent(s)
Results
Battle of the Robots 2016
International Event 2016

(Representing Brazil)

Round 1
Gnutel 3.0 (Russia)

Comet (Russia)

Qualified
Semi-Final
Tanaji (India)
Won
Final
Weber (Russia)

Destructor (Russia)

Lost