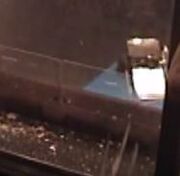 Pokerbot was an Antweight robot from Alberta, Canada that competed at Kilobots VII. It was a two-wheeled, black and white, wedge-shaped robot armed with a powerful vertical flywheel. Pokerbot did well in its only competition, going undefeated, and becoming the Antweight champion.
Robot History
Edit
Kilobots VII
Edit
Pokerbot's first ever match was against Kitbot in the quarterfinals. This fight started with Pokerbot spinning up, and almost immediately sending Kitbot flying. This disabled one half of Kitbot's drive allowing Pokerbot to easily shove Kitbot out of the dropoff point.
This win put Pokerbot through to the second quarterfinal round where it faced Mini Roadbug. This fight started the same way as the last did, with Pokerbot spinning up to full speed, and delivering a large hit to its opponent. This time however the hit ripped parts off of Mini Roadbug, completely disabling it.
It then faced D in the semifinals. It won by KO, and faced Kitbot again in the finals. This fight started with Pokerbot delivering a hit to Kitbot that nearly sent it out of the arena. Kitbot escaped but then nearly drove into the drop off zone, but it managed to escape at the last second. Pokerbot gave chase, and delivered a hit, flipping Kitbot before sending it flying.
Pokerbot then delivered two more hits, with the second one sending Kitbot flying halfway across the arena, disabling its left side drive. It then delived a final hit, ripping apart the top armor of Kitbot, and flipping it so that it was high centered on its own mangled armor. Pokorbot then pushed Kitbot out of the drop off zone, winning by KO. This meant that Pokerbot became the Kilobots VII Antweight champion.
Series
Event
Opponent(s)
Round
Results
Kilobots VII
Antweight Division
Kitbot
Quarter

Finals

Won
Mini Roadbug
Won
D
Semi-Finals
Won
Kitbot
Finals
Won
Wins/Losses
Edit
Community content is available under
CC-BY-SA
unless otherwise noted.