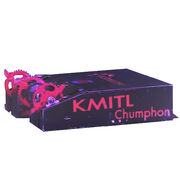 Optimus EE
was a robot built by students from the King Mongkut's Institute of Technology Ladkrabang in Bangkok, Thailand that competed in the first Seacon War of Steel. It was a black, box-shaped robot armed with three vertical flywheels. These could be swapped out for a vertical bar spinner.
Aside from the weaponry the body of Optimus EE was also interchangable, with another shell, this one a box shaped robot with a rear wedge, could be switched out depending on the opponent. Optimus EE did well in competition, reaching the Pre-Quarterfinal Eliminators before losing to Sudsakorn.
Robot History
Edit
Seacon War of Steel 1
Edit
Optimus EE's first ever match was against Tonitaro. It won this match, and advanced to the Group D, Line 3 Semi-Finals where it faced The Stronger Warrior. This fight consisted of Optimus EE shoving The Stronger Warrior around the arena for the entire match, unsurprisingly Optimus won the judges decision, putting Optimus EE through to the Group D, Line 3 Final where it faced Angry Bot 1.
This match started with Angry Bot 1 spinning up to full speed, and immediately delivering a large hit to Optimus EE that sent it spinning away from Angry Bot. Angry Bot, its weapon still up to speed then came in, and delivered another hit to Optimus EE, knocking the later's drive chain into its weapon. It followed this up with three more devastating hits, the first completely immobilizing Optimus, the second ripping a chunk of front armor off of Optimus, and the third ripping a chunk of rear armor off of Optimus.
Optimus EE was then counted out, putting it in the loser's melee where it faced Granddaughter goddess, and Surin Phrathat. In this match Optimus EE started by lining up a shot on Granddaughter goddess, which was spinning wildly. However it was interupted momentarily by Surin Phrathat, which got under it briefly before Optimus EE slammed Granddaughter goddess once, immobilizing it. Optimus EE then focused on Surin Phrathat, and shoved it around the arena, eventually pitting it.
This put Optimus EE through to the Pre-Quarterfinal Eliminators where it faced Sudsakorn. After both robots lost use of their weapons within the first hit, this match became a pushing match. Sudsakorn won the resulting judges decision, meaning that Optimus EE was eliminated from the competition.
Series
Event
Round
Opponent(s)
Results
Seacon War of Steel 1
Group D, Line 3
Group D, Line 3 Eliminators
Tonitaro
Won
Group D, Line 3 Semi-Finals
The Stronger Warrior
Won
Group D Final
Group D, Line 3 Final
Angry Bot 1
Lost
Loser's Melee
Surin Phrathat

Granddaughter goddess

Won
Final Eliminator
Pre-Quarterfinal Eliminators
Sudsakorn
Lost
Wins/Losses
Edit
Community content is available under
CC-BY-SA
unless otherwise noted.