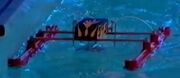 Nautilus Mega-Kid was a robot from Epping in Essex that competed in the Swimming event during Series 3 of Techno Games in 2002. It managed to win its first heat with the Series 2 Swimming champion K9000 II, but lost in the quarterfinals to the eventual Series 3 Swimming champion Marlin.
In Nautilus Mega-Kid's first heat, it went up against Sewme-Nator, Supersonicsquiddy, Linford Lobster and the reigning Swimming champion K9000 II. Surprisingly, Nautilus Mega-Kid got the better start and was moving very comfortably against the wall. While K9000 II and Supersonicsquiddy was fighting for a spot in the Swimming semifinals, Nautilus Mega-Kid finished first place overall at 31:15 seconds. Shortly after, K9000 II finished at 49:03 seconds and both robots advanced to the Swimming quarterfinals.
In its quarterfinal heat, it went up against Hydra 2, Pete the Penguin and the feared newcomer Marlin. Unfortunately, Marlin was the faster machine and finished first at a new world record of 11:13 seconds. Despite Nautilus Mega-Kid finishing second in the heat at 35:40 seconds, it was the first place winner only to go through to the Swimming final and since it finished second, it was eliminated from the Swimming overall.
Community content is available under
CC-BY-SA
unless otherwise noted.