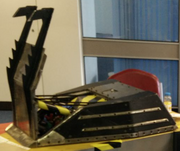 Mute was a wedge-shaped robot which competed in Series 7 of Robot Wars, as well as the New Blood Championship in Robot Wars Extreme: Series 2. Mute was well known for its powerful front-hinged flipper, which was so powerful that the robot's self-righting attempts often resulted in it landing upside-down again.
Mute achieved a reasonable amount of success in its relatively short Robot Wars career. It won its heat in the New Blood Championship by defeating Roobarb in the Heat Final, and ultimately finished second in that tournament after a close Judges' decision against champion Storm 2.
In The Seventh Wars, Mute fought in Heat L and won its Heat after defeating Behemoth and Judge Shred 3. However, in the Semi-Finals, it was thrown out of the arena and eliminated in the first round against Firestorm 5.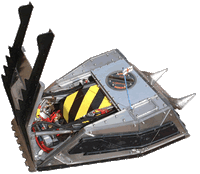 Mute was designed to be small, powerful and heavily armoured. The team opted for a front-hinged flipper because it had good attack and defence capabilities, as the robot would always have its internals protected by the flipper. The flipper was often unreliable in its power, as it often launched Mute high into the air whilst self-righting, unlike most self-righters that only pushed the robot onto its wheels. It would often throw itself around and onto its back again. This gave it trouble in all three of its Series 7 one-on-one fights, though it was still able to win the first two.
The front flipper was capable of lifting 200kg at full pressure, ran on a two ton ram and opened outwards in a similar fashion to Cassius and Firestorm. It had titanium barbs on the top to stop other robots driving off. The show often referred to Mute's flipper as "Opening the wrong way", as Mute's shape, size and the way the flipper looks confuses people, making them think it's a rear-hinged flipper. Also, Jonathan Pearce claimed in the New Blood competition that Mute's flipper design was poor as it would have to wedge far underneath an opponent for it to flip them, despite robots such as Cassius and Firestorm using this form of attack to great effect.
The robot also featured a rear-flipper which operated more similarly to a lifter, similar to that of G.B.H. 2. The armour was extreme-composite 12mm polycarbonate and 2mm stainless steel and the robot carried 4kg of CO2 to power both flippers. The Series 7 model featured "more armour, more power and more gas" than the Extreme 2 model. Mute's armour resilience was demonstrated after the first round, where a blow from Shunt merely scratched the paint.
Robot History
Edit
Robot Wars Extreme 2
Edit
Mute fought in Heat A of the New Blood Championship in Extreme Series 2. In Mute's first fight, it fought Terror Turtle and Roobarb. Mute began by engaging with Terror Turtle, missing with its first flip before Terror Turtle was flipped by Roobarb. It then proceeded to launch Roobarb across the arena and turned them over in the process. A second attack on Roobarb resulted in a missed flip, as Roobarb activated the pit release and then briefly pushed Mute backwards. Mute dodged some minor attacks from Roobarb, who were unable to get their flipper under Mute. Mute then drove underneath Roobarb, but missed its flip again. Mute drove dangerously near to the pit, stopping beside it. As Roobarb drove towards them, Mute turned and drove straight into the pit. However, as Terror Turtle had been flipped very early on in the fight by Roobarb, (despite not being counted out, the judges ruled that Terror Turtle was clearly immobile and had been so for a long time) Mute survived, and went through to the second round along with Roobarb.
Mute fought Mr Nasty in the next round. Mr Nasty drove over Mute's flipper at an angle, but Mute were slow to respond and didn't flip until the boxy machine was off again. They had a second opportunity though, as Mr Nasty drove straight onto the flipper, allowing Mute to flip them over. Mute were circled by Mr Nasty, before Mr Nasty slammed into Mute. Mute was briefly pushed around, although its armour was too strong for Mr Nasty's spike to penetrate. Both machines eventually separated, before Mr Nasty reversed onto Mute's wedge. Mute took its time to fire the flipper, but managed to flip the invertible machine over. Mute quickly came in for another attack, flicking Mr Nasty up, and Mr Nasty appeared to lose drive on one side. Mute slammed into Mr Nasty as Sergeant Bash and Refbot began to tussle in the background. Mr Nasty was only spinning in circles by this point, and Mute activated the pit release, before pushing Mr Nasty around further, but were unable to get their flipper underneath Mr Nasty's side. Mute allowed Mr Nasty to drive onto its wedge again late on, and shoved them into the clutches of Dead Metal. Time ran out before Dead Metal could do anything with Mr Nasty other than drag them over the Flame Pit, and the judges unsurprisingly voted Mute through to the Heat Final.
Here, Mute face Roobarb once again. They began by knocking Roobarb onto one wheel, as they drove straight under the larger's machines 3cm ground clearance. Mute and Roobarb began to circle, but Mute eventually wedged underneath Roobarb and pushed them around for a few moments, before flipping Roobarb over near Shunt's CPZ. After dodging a flip by Roobarb, Mute exploited their opponent's ground clearance again, but couldn't get a flip in before Roobarb drove off. Mute dodged a second attack by Roobarb and retaliated by flipping Roobarb up onto the arena wall, and almost out of the arena, but Roobarb used its flipper to get off the arena wall. Mute were then flipped over by Roobarb. Mute tried to self-right, but Roobarb caught Mute's flipper, nearly sending Roobarb over. Mute's flipper remained open for several seconds, before closing again as Roobarb came in to push Mute around. After being pushed onto the pit, Mute tried to self-right again, springing up and righting itself at last. Mute was pushed near the arena wall by Roobarb, but came back and got underneath Roobarb again, just as the Disc of Doom button was hit by Roobarb. Mute drove across the arena floor and back again, with Roobarb still caught on its flipper. However, Mute had run out of flips by this point, so they slammed Roobarb into the pit release button, ripping it off of the wall, and Roobarb pushed backwards into the side of Mute. Roobarb then drove onto Mute's wedge again, giving Mute the opportunity to push their opponent into Sergeant Bash. As Shunt came in to attack Roobarb, Mute escaped from the CPZ, leaving Roobarb to take punishment from the House Robots. As Roobarb escaped, Mute dug under Roobarb again, driving them near to another CPZ, and the two machines became trapped between Sergeant Bash and Shunt. Mute and Roobarb circled each other tentatively, before Mute lifted Roobarb up with its rear flipper twice in succession. As the battle came to a close, Mute were pushed onto the Flame Pit by Roobarb and appeared to lose mobility, remaining there until cease was called. Nevertheless, Mute, was given the victory by the Judges, and reached the Grand Final.
Mute's first round battle in the grand final against Cedric Slammer was quite controversial. On activate, Mute was quicker off the line and charged at Cedric Slammer, clipping the spinner and creating some sparks in the process. Mute tried to drive under the front corner of Cedric Slammer, but couldn't get enough of a purchase underneath, and the two machines circled each other. More sparks flew as Mute were grazed on the side by Cedric Slammer's spinner, with no great damage caused. Mute were cut by the disc again, before turning away from Cedric Slammer. They then turned into Cedric Slammer's spinner and flipped Cedric Slammer away from them, the two weapons colliding, but then both robots seemed to break down simultaneously. Cedric Slammer was limping in circles whilst Mute had stopped altogether. As Sgt. Bash closed in, Mute's flipper activated, but they still weren't moving. Refbot counted out both robots, before the House Robots took over, with Mr Psycho parading Cedric Slammer around the arena while Mute remained untouched. The battle went to a Judges' decision, awarding a split decision (two to one) in favour of Mute based on the battle up until both machines were deemed immobilised, much to the displeasure of some of the crowd.
In the Grand Final, Mute fought Storm 2. Both machines began quickly, dodging and turning away from the other's front wedges early on. Storm 2 drove side on at Mute, which prevented Mute from using its flipper, and pushed them into the arena wall. Mute then managed to get slightly under Storm 2's side, but Storm 2 were quick to escape before Mute could get a chance to flip. Storm 2 began spinning around, while Mute circled them. Both machines danced over the Flame Pit in their attempts to get round the back of each other. Eventually, Mute trapped Storm 2 against the arena wall, wedging slightly underneath the ramming robot. Mute activated its flipper, but only succeeded in flicking itself away from Storm 2 slightly. Mute and Storm 2 then began pushing against each other, before Storm 2 broke away and pushed Mute in circles from the side again. Neither machine could gain a clear advantage, but Storm 2 managed to get under Mute's wedge and briefly, but the chance was lost as Mute backed away. Storm 2 produced another attack on Mute's side, smoke pouring out of Storm 2 as it dug into the arena floor. Mute then managed to get under the corner of Storm 2, lifting them up slightly on one side. Storm 2 then drove into Dead Metal, but then backed onto Mute's flipper, and Mute finally got a flip in, but Storm 2 landed on its wheels. Storm 2 retaliated by pushing Mute side-on again. Mute waited for Storm 2 to drive onto their wedge, turning and flipping Storm 2 into the arena wall and over. Storm 2 pushed against Mute as the pit siren was heard in the background as the battle came to a close. Cease was called and the battle went to a judges' decision, unfortunately for Mute, the judges ruled in favour of Storm 2, making Storm 2 the New Blood Champion.
UK Robot Wars Series 7
Edit
In Round 1 of Series 7, Mute was the only newcomer to the main competition in its battle as it went up against Demolition Man, Judge Shred 3 and Corkscrew Two, who had all lost in Round 1 of the previous war. At the start of the battle, Mute was by far the quickest away, and began by slamming into Demolition Man, before pushing them straight into Shunt's CPZ. Demolition Man appeared to not be moving properly, as it could not escape Shunt's CPZ. As Mute nudged into Corkscrew Two, Judge Shred 3 came in and flipped the full-body spinner over, before Mute charged under Corkscrew Two, and all the way through without a flip. As Judge Shred 3 flipped Corkscrew Two again, Mute rammed into the back of Judge Shred 3, but was unable to get underneath and both flippers backed away from each other. Mute drove under Corkscrew Two again, missing with a flip as it did so, but they still overturned the invertible spinner. Judge Shred 3 then turned its attacks towards Demolition Man, flipping it over. At the same time, Mute changed its target too, slamming into Demolition Man, but missing its flip again.Mute then successfully flipped Demolition Man onto its side in the CPZ Demolition Man. Mute watched on as Judge Shred 3 flipped Corkscrew Two out of the arena, just as Demolition Man was fully counted out by Refbot. At this point, Mute decided to attack Shunt, reversing into Shunt's side and pushing the House Robot across the arena, just as Dead Metal pitted Demolition Man, and cease was called. Mute were then drawn up against the tenth seeds Behemoth in the second round.
Mute attempted to get in behind Behemoth at the start of the fight, but Behemoth quickly spun on the spot. Mute dodged the scoop and twisted round again, knocking into Behemoth and slightly lifting the seeded machine up. Mute then found itself side-on to Behemoth's scoop Behemoth got the first flip in, lifting Mute over and onto its back. Mute flicked itself back over, and landed on Behemoth's top. This did some internal damage to Behemoth, who got stuck in forward gear. This sent Behemoth running straight into the arena wall, crashing into Matilda's CPZ. Mute watched on as Behemoth went on the receiving end of Mr. Psycho's hammer twice. Mute stayed out of Behemoth's way as it careened all over the arena, before being counted out by Refbot and Mute was then through to the heat final, where it fought Judge Shred 3 again, despite the team's preference of battling UFO, which had just lost to Judge Shred 3.
Both machines began tentatively, spinning around each other, before Judge Shred 3 missed a flip on Mute. Mute was flicked up by Judge Shred 3's second attack, but not over. They pushed into Judge Shred 3, but were unable to dig under Judge Shred 3's ground clearance. Judge Shred 3 spun away from Mute, who then drove onto the edge of Judge Shred 3's flipper. Mute were flipped over by Judge Shred 3, and took two attempts to self-right, after the first one sent them somersaulting through the air. Mute fought back quickly, flicking Judge Shred 3 up with its rear flipper. Mute turned and charged towards Judge Shred 3, bouncing off their side. As Mute circled Judge Shred 3, they were flicked from the side again, before being flipped fully over again. Mute somersaulted through the air several times as it desperately tried to self-right, but when they finally did, they landed on Judge Shred 3's flipper, and were flipped through the air again, but landed on their wheels. While this next attack was not shown on the televised edit, Mute was then able to get another attack on Judge Shred 3 with its rear flipper. However, another side-on attack from Judge Shred 3 sent Mute over again. Mute hopped madly as it attempted to right itself, flipping itself over the front of Judge Shred 3, landing on top of them, and then somersaulting again. On its third flip, Mute righted itself. The two flippers clashed head-on, and Judge Shred 3 missed with a flip, bouncing itself up into the air. Mute took advantage and drove underneath, flipping Judge Shred 3 and rolling them across the arena floor. As Sir Killalot activated the pit release, Judge Shred 3 appeared to lose drive on one side, and was only able to move on one side back and forth slightly. Mute backed onto Judge Shred 3 and tried to lift them with its rear flipper, but Judge Shred 3 replied with another flip of its own. Mute self-righted straight away this time though, and stayed away from Judge Shred 3 for the rest of the fight, until time ran out.. Although Judge Shred 3 was technically immobile, they had not been officially counted out by Refbot, so the fight went to a judges' decision, and Mute was given a controversial win, sending it through to the Series Semi-Finals.

Mute's dream ended in round one of the Semi-finals though, as it was drawn against the second seeds and three times grand finalist Firestorm 5. Both machines drove straight at each other, with Mute driving over the top of Firestorm 5 before the seeds could get a flip in. Mute drove up Firestorm 5's wedge again, and were promptly flipped, rolling over before being overturned by a second flip. Mute hopped through the air as it tried to self-right, much like it did in its previous fight, but were unable to right themselves in five attempts. due to the flipper's power. They then found themselves perilously close to the arena wall after a push from Firestorm 5, and Mute did not attempt to self-right for fear of launching itself out of the arena. However, this outcome was only delayed for a few seconds, as Firestorm 5 drove under Mute, and flipped it out of the arena.
Live Events
Edit
Mute has fought in a lot of Live Events around the country with a good amount of success. It reached the finals of the Roaming Robots Winter Tour in 2004 and finished as Runner-Up before retiring for 8 years. After those 8 years, Mute made a comeback in a Robots Live! event at Manchester in 2012 where in one of the fights it flipped itself out the arena when it tried to self-right and it also won the Robots Live! Team Championships under the name Team Saints and Sinners.
Roaming Robots Winter Tour 2004
Edit
Mute participated in the first Winter Tour UK Championship outside of Robot Wars TM where it was Seeded 2nd due to its performance on the Live Event Circuit. It managed to win its qualifier matches to gain points through to the finals at Doncaster. In round 1, it beat Dantomkia who got thrown around the arena until it landed on the wall and was flipped out from there. Next it took on Big Nipper in the quarter-finals where it lost on a judges decision but it managed to win the loser's melee after both Storm 2 & Ripper died. In the semi-finals, Mute took on Big Nipper again, this time Mute was the more dominant, it got more flips on Big Nipper and even gave it a piggy back at one point. Mute won the judges decision where it met the lethal axe of Terrorhurtz. Here Mute's front flipper failed to work and Mute spent a cagey affair with Terrorhurtz. It took a few glancing blows from Terrorhurtz, and did manage to get its rear flipper into contact, but it never affected Terrorhurtz and Terrorhurtz eventually hit Mute's removable link which left it a sitting duck and finished 2nd.
Roaming Robots Winter Tour 2005
Edit
For finishing as runner-up the previous year, Mute was due to return to the Winter Tour 2005 as the second seed. But the team withdrew, and from this point onwards, Mute was in retirement for a further 7 years.
Series
Event
Round
Opponent(s)
Results
Robot Rumble
Debenham 2002
Round 1
Hydra
Won
Quarter-Final
Axe-Awe
Won
Semi-Final
The Grim Reaper
Won
Grand-Final
Storm 2
Lost
Roaming Robots
War in the Wolds - Louth 2002
Friendly Battle
TX-108
Won
Friendly Battle
Thor

Hells Teeth

Won
Friendly Battle
Bulldog Breed

Tornado

Mighty Mouse

Lost
Robot Roadshow
Worthing 2002
Friendly Battle
Storm 2

A-Kill

Won
Friendly Battle
King Buxton

13 Black

Won
Friendly Battle
The Grim Reaper

Bulldog Breed

Roobarb

Lost
Robot Wars Extreme 2
New Blood - Heat A
Eliminator
Roobarb

Terror Turtle

Qualified
Semi-Final
Mr Nasty
Won
Heat Final
Roobarb
Won
New Blood Grand-Final
Eliminator
Cedric Slammer
Won
Grand-Final
Storm 2
Lost
Robot Roadshow
Brighton Model World 2003
Friendly Battle
Dantomkia

Barbaric Response

Won
Friendly Battle
Bigger Brother
Lost
Friendly Battle
S.M.I.D.S.Y.

Kronic the Wedgehog

Won
Roaming Robots
Red Nose Day 2003
Friendly Battle
The Stag
Lost
Friendly Battle
Hells Teeth

Bulldog Breed

Behemoth, Knightmare

Lost
Friendly Battle
Pussycat

Velocirippa

Lost
Friendly Battle
Leveller 2

Pussycat

Dantomkia

Lost
Robot Crusade
Enginuity
Heat
Kan-Opener

Cayenne

Lost
Loser's Melee
Corkscrew

Mighty Mouse

Won
Quarter-Final
St Agro
Won
Semi-Final
Kan-Opener
Won
Grand-Final
The Stag
Won
Robot Rumble
Debenham 2003
Heat
Bigger Brother
Lost
Friendly Battle
Lazerus

Sugar Plum Fairy

Won
Friendly Battle
Steel Sandwich

Judge Shred 3

Won
Dutch Robot Games (Representing UK)
2003
Saturday Morning Session - Battle 5
Hard (Belgium)

Edge Hog (UK)

Lost
Sunday Afternoon Session - Battle 1
Gianto 2 (UK)

Lizzard (Holland)

Won
UK Robot Wars Series 7
Heat L
Eliminator
Corkscrew Two

Judge Shred 3

Demolition Man 2

Qualified
Semi-Final
(10) Behemoth
Won
Heat Final
Judge Shred 3
Won
Semi-Final 2
Round 1
(2) Firestorm 5
Lost
Roaming Robots
Newark 2003
Friendly Battle
The Stag

Roobarb

Lost
Friendly Battle
M2

Judge Shred 3

Lost
Kent Robot Challenge
2003
Friendly Battle
51

Scorpion

Lost
Friendly Battle
Scorpion

The Grim Reaper

Lost
Friendly Battle
Scorpion

Blue Mean Monk

Won
Friendly Battle
51

Killerhurtz

Won
Roaming Robots
Steel City Showdown 2003
Heat
Big Nipper
Won
Whiteboard Fight
Ewe 2

Ripper

Won
Semi-Final
Leveller 2

W.I.P.

Won
Final
Merlin

Big Nipper

Lost
Roaming Robots Winter Tour 2004

(Seeded 2nd)

Round 1 - Newport
Qualifier
(6) Thor

Storm 2

Won
Round 2 - Edinburgh
Qualifier
Dantomkia

Storm 2

Lost
Qualifier
Terrorhurtz

(5) Kan-Opener

Lost
Qualifier
Merlin

(5) Kan-Opener

Chompalot

Won
Qualifier
Ripper

Mighty Mouse

Lost
Round 3 - Worcester
Qualifier
Merlin

Storm 2

Reptirron the Second

Lost
Qualifier
(6) Thor

Dantomkia

Lost
Finals - Doncaster
Round 1
Dantomkia
Won
Quarter-Final
(4) Big Nipper
Lost
Losers Melee
Ripper

Storm 2

Won
Semi-Final
(4) Big Nipper
Won
Grand-Final
Terrorhurtz
Lost
Robots Live!
Manchester Expo MCM 2012
Exhibition Battle
Big Nipper

Merlin

Lost
Exhibition Battle
Merlin
Unknown
Robots Live!
Team Championships 2012 (Part of

Team Saints and Sinners)

Mayhem
Toon Raider

Behemoth

Toxic 2

Lost
Tag-Team (With Tilly 2 Evo)
Toxic 2 & Storm 2
Unknown (Winners of Event)
Community content is available under
CC-BY-SA
unless otherwise noted.