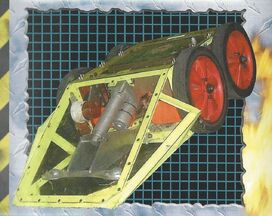 Medusa 2000 was an invertible robot from Series 4 of Robot Wars. It was fluorescent green coloured, which the team described as the robot's weakness. It could lift other robots by way of a pneumatic ram that pressed down on the floor to raise its front end. Its primary weapon though, was a barbed drum on its rear.
Medusa 2000 was soundly defeated by Chaos 2 in the second round, and did not return outside of its debut series. The original Medusa machine was intended to enter the sumo event of Series 3, but the event was cancelled after a behind-the-scenes accident.
Robot History
Edit
Medusa 2000 featured in Heat A of the Fourth Wars, and was drawn up against the number 17 seeds King B3 and fellow newcomers Attila the Drum. Medusa 2000 played little part in this first battle. After a brief clash against King B3, it remained in the background while King B3 continually shunted and bashed Attila the Drum around the arena. As King B3 couldn't finish off Attila the Drum, the battle went to a judges' decision. Surprisingly, and rather controversially, Medusa 2000 went through, along with King B3, to the second round of the Heat.
In the second round, Medusa 2000 had an unfortunate draw, as it was drawn up against the reigning champions Chaos 2. The favourites were dominant from the very start of the battle, trying to get underneath Medusa 2000 but when it did it fired its flipper too late and missed. Medusa then unwisely drove straight at Chaos 2's flipper, the champs took full advantage and overturned Medusa 2000. Chaos 2 then got beneath Medusa 2000, slammed it against the arena wall and tried to flip it out. However, although Chaos 2 failed in doing this, Medusa 2000 proceeded to charge straight at Chaos 2, this time ending up on its side, from where it couldn't move. Fortunately, Chaos 2 pushed it back onto its wheels. Two further flips from Chaos 2 nearly saw Medusa 2000 flipped out of the arena, but once again, it just survived. Medusa 2000 then backed into Sergeant Bash, who crushed one of its wheels. The house robots, with a little help from Chaos 2, pushed Medusa 2000 onto the arena flipper, where it found itself airborne yet again. Medusa 2000 slowly began to move again, but only for a short while before it was pushed down the pit. Chaos 2 was put through and Medusa 2000 was eliminated from the Fourth Wars.
Series
Event
Round
Opponent(s)
Results
UK Robot Wars

Series 4

Heat A
Eliminator
(17) King B3,

Attila the Drum

Qualified
Semi-Final
(1) Chaos 2
Lost
Wins/losses
Edit
Community content is available under
CC-BY-SA
unless otherwise noted.