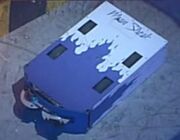 Mean Streak was an invertible robot that competed in Series 7 of Robot Wars. It reached the second round of its heat, losing to thirteenth seed S.M.I.D.S.Y. there.
Robot History
Edit
Mean Streak competed in Heat G, and faced newcomer Hellbent, German entry I Bot One Beta and the Terror-Dactyls' newest robot, Araknia, in its first round battle. It immediately drove towards Araknia, but was flipped over and axed by Hellbent, before spinning round in circles and being briefly pushed by I Bot One Beta. Hellbent struck Mean Streak's bottom panel again, with Mean Streak backing away and driving around a flame jet before pushing Araknia around and tearing through its side panels with its discs. Mean Streak continued to be axed and pushed around the arena by Hellbent, but survived as I Bot One Beta and Araknia were counted out, and progressed to the second round regardless.
In the second round, Mean Streak faced the thirteenth seed S.M.I.D.S.Y.. Both robots charged head-on into each other in the opening seconds, with sparks flying as S.M.I.D.S.Y. got under Mean Streak and pushed it across the arena. Mean Streak continued making sparks as its discs hit S.M.I.D.S.Y.'s sides, but was again pushed around until S.M.I.D.S.Y. accidentally drove itself into Sergeant Bash's CPZ. S.M.I.D.S.Y. recovered, pushing Mean Streak into Sergeant Bash, who attempted to crush its front panel as he and S.M.I.D.S.Y. pinned it in. Mean Streak struggled to escape from the CPZ, and was pushed around the arena again into Mr. Psycho, who pounded its top panel with his hammer. Again, Mean Streak escaped, driving over and around the pit square just as it was beginning to descend. It charged towards S.M.I.D.S.Y. again, but missed, allowing S.M.I.D.S.Y. to push Mean Streak into the wall, where it was again attacked by Sergeant Bash. S.M.I.D.S.Y. eventually lifted Mean Streak onto its side, where it was left to be counted out by Refbot and picked up by Mr. Psycho. Mr. Psycho lowered it onto the Floor Flipper, where it was thrown across - and almost out of - the arena. Sergeant Bash then proceeded to crush through Mean Streak's side with his pincers, before Refbot pushed both robots towards the pit. Mean Streak eventually toppled in with assistance from S.M.I.D.S.Y., and was eliminated from the Seventh Wars.
Series
Event
Round
Opponent(s)
Results
UK Robot Wars Series 7
Heat G
Eliminator
Araknia

Hellbent

I Bot One Beta

Qualified
Semi-Final
(13) S.M.I.D.S.Y
Lost
Wins/Losses
Edit
Community content is available under
CC-BY-SA
unless otherwise noted.