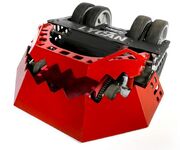 Lycan is a robot which competed in the second season of ABC's BattleBots reboot. Its active weapon is a small jaw powered by a crankshaft, meaning it would continuously move up and down. However, its main advantage is its speed. Lycan is incredibly fast, clocking in at about 35 miles per hour. Lycan was built by a group of Canadian robot builders from Ontario, led by Ravi Baboolal under his All Black Robotics banner.
Robot History
Edit
Lycan was one of twelve robots which was forced to compete in three-way melees in order to determine the final four robots of the bracket. In its match it was placed against Mohawk and Invader. In this battle, Lycan was the main aggressor, slamming into Invader which got immobilized and repeatedly attacking for the rest of the fight while attacking Mohawk a few times in the process. However, on a charge with Invader, Lycan turned sidewards to the full-body spinner of Invader and broke one of the drive chains, leaving it mostly immobile and limping. Mohawk then proceeded to crush into Lycan's wheel until it was counted out.
Wins/Losses
Edit
Community content is available under
CC-BY-SA
unless otherwise noted.