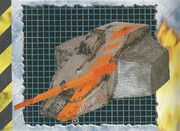 Little Fly was a competitor robot in Series 4 of Robot Wars. It only appeared in one series, reaching the Heat Final. It eliminated the 28th seed Weld-Dor, before defeating Tiberius to meet Mousetrap in the heat final. Although Mousetrap was victorious, Little Fly did quite a bit of damage, which was evident in Mousetrap's next battle. The name originated from the team's horse.
Robot History
Edit
In the first battle, the robots danced around until Little Fly attacked Weld-Dor 2, and Sump Thing used its spike on Little Fly. Little Fly got part of its blade stuck on Weld-Dor 2, and Sump Thing hit it. The melee continued, with Little Fly appearing very sluggish, coming to a complete halt on several occasions. However, Little Fly was saved when Sump Thing appeared to immobilize Weld-Dor 2, and Little Fly rammed into it to prove that it was still alive.
Next, Little Fly met Tiberius, who was favoured to win the heat since the demise of both seeds. Tiberius drove straight into Little Fly. It got under it many times, but could not use its crusher. It slammed Little Fly into Sergeant Bash, and pushed it across the arena. Refbot separated them, but Tiberius got stuck on the arena wall in forward drive. Little Fly was through to the heat final, against Mousetrap.
Little Fly drove onto Mousetrap's wedge, scuffing the wedge itself, but Mousetrap swung its trap weapon, colliding with the weapon of Little Fly and sending sparks flying. Little Fly then drove aside and struck Mousetrap, sending a shard of metal flying. Mousetrap took more damage from the blade, but pushed Little Fly around the arena with little effort, and Little Fly was unable to sever the spring for the trap mechanism. Mousetrap shoved Little Fly into Matilda's CPZ, and time ran out as Little Fly tried to escape Matilda. The judges decided that Little Fly hadn't done enough to reach the semi-finals.
Series
Event
Round
Opponent(s)
Results
UK Robot Wars Series 4
Heat K
Eliminator
(28) Weld-Dor

Sumpthing

Qualifed
Semi-Final
Tiberius
Won
Final
Mousetrap
Lost
Wins/Losses
Edit
Community content is available under
CC-BY-SA
unless otherwise noted.