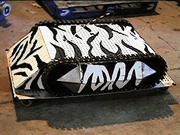 Limpet was a tracked robot that competed in Series 2 of Robot Wars. It was the initial entry from Team 13 Black, and reached the Trial stage in its only appearance, where it was eliminated after knocking only 23 skittles down.
Limpet Mk 2 was being built for Series 3, similar in shape and size to the original Limpet but with new and improved tracks and a small lifting mechansim. However, it was not finished by the end of qualifying, and Limpet Mk 2 subsequently failed to qualify.
After deciding not to enter Series 4, Team 13 Black returned to compete in Series 5-7 and the second series of Robot Wars Extreme with the considerably more successful 13 Black.
As of 2016, Limpet remains in John Denny's possession, with Denny viewing to restore or upgrade the robot for a possible return to combat.
Robot History
Edit
Before it could compete in Heat G, Limpet's saw had to be removed to bring its weight below the maximum 80 kg limit. Additionally, the team stuck a small piece of French baguette to the robot's back in an attempt to have it set alight by Sergeant Bash during its Gauntlet run, as well as fireproofing Limpet's internals using foil from the studio canteen. In its Gauntlet run, Limpet trundled out of the starting zone, and drove up the see-saw. Sir Killalot pinned Limpet against the wall as it cleared the see-saw, driving on top of Limpet's tracks and armour as Limpet struggled to get away. Sir Killalot backed down as Dead Metal grabbed hold of Limpet, before snapping its left track with his jaws. Despite losing mobility, Limpet still travelled a distance of 10.8m, enough for it to qualify for the Trial stage.
In the Skittles Trial, Limpet was the last robot to run, and had a chance of progressing to the Arena stage after defending champion Roadblock had only knocked down 34 barrels. However, it started slowly, and made a steady run through the stacks of barrels, not knocking down a great amount of them in the process. It only managed to knock down 23 barrels by the time 'cease' was called, so it was eliminated.
Series
Event
Round
Opponent(s)
Results
UK Robot Wars Series 2
Heat G
Gauntlet
N/A
10.8m (3rd) Qualified
Skittles
N/A
23 Barrels (5th) Eliminated
Robots Live! Grantham 2019
Round 3
Heat 3
Iron-Awe 5

Behemoth

Lost
Wins/Losses
Edit
Community content is available under
CC-BY-SA
unless otherwise noted.