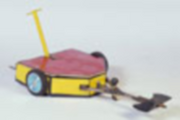 Knome was a lightweight robot built by Team Duct Tape which competed in the Long Beach 1999 event of BattleBots. It was armed with a static thwacking axe and a rear pickaxe. It didn't perform well in competition, losing both its matches.
Knome was retired and was replaced with heavyweight entrant Knome II for Season 1.0 which also had no success.
Knome was supposed to be spelled Gnome, but builder Jerome Miles misspelled it and didn't know until it was too late. He later carried the misspelling over to Knome II.
Robot History
Edit
Knome's first ever match in BattleBots was against Stinger. Stinger won by KO and Knome was now in the loser's bracket, where it faced W.L.O.W. W.L.O.W. won by KO and Knome was eliminated from the tournament.
Knome wasn't finished, however, as it participated the kilobot rumble at the end of the tournament. HammerHead won the rumble overall and Knome lost.
Wins/Losses
Edit
Community content is available under
CC-BY-SA
unless otherwise noted.