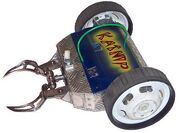 Katnip (sometimes spelled KatNip) was the first featherweight of Cold Fusion Team, although created by Team Kat at the time. It was a small box shaped robot with hardened steel pincers, which fought and lost in the featherweight competition of Extreme 2 of Robot Wars.
Katnip had been created long before its driver, Stuart Barnwell, had had anything to do with Cold Fusion Team, following a competition by Rex Garrod called Rex's Robot Challenge in the magazine Real Robots. It was originally made from wood with plastic pincers, but upon meeting Alan Gribble, Gribble constructed metal pincers instead, as the plastic pincers would not hold up. Gribble also helped Barnwell convert his machine into metal, in order to bring it up to fighting form. Katnip was the first featherweight to use titanium, and was often used in live shows for children to play and practise with.
After retiring from competitive battles in 2007, Katnip was scrapped by Team Kat. Pussycat and Kitty (the team's other two entrants to Robot Wars) are also retired, but have since moved on to new teams.
Robot History
Edit
In the heats, Katnip spent most of the battle avoiding the main action, clashing with Bernard and Neoteric. After Gi-Ant-O, Neoteric, Eddy Evolution and AM CVn were all immobilised, Katnip went through with Argh! and Bernard.
In the final, Katnip tussled with Gladiator, before being rammed by Micro-Mute. Soon after, Micro-Mute spun and detached one of Katnip's wheels, rendering it immobile, although it continued to spin in circles. It was then pitted by the eventual champion, Argh!, making it the first to fall in the Featherweight Final.
Series
Event
Round
Opponent(s)
Results
Robot Wars Extreme 2
Featherweight

Championship

Eliminator
Bernard

Neoteric

Eddy Evolution

Gi-Ant-O

AMCVn

Argh!

Qualified
Final
Gladiator

Micro-Mute

Argh!

Bernard

Cutlet

Lost
Wins/Losses
Edit
Community content is available under
CC-BY-SA
unless otherwise noted.