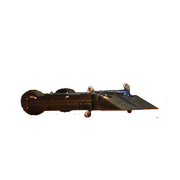 "Its a brand new robot from Grants High School. Two juniors, and two sophomores are on the team."
— Scott Robinson
Kanye's license of Sally's Mustang of Unlicensed Disintegration
 (Usually shortened to Kanye's license) was a Middleweight robot built by students from
Grants High School
in Grants, New Mexico going under the team name: Harambe's Battalion that competed in RoboGames 2017. It was a brown, two-wheeled, weaponless, invertible box-shaped robot with a front facing wedge.
Kanye's license was built mainly out of scrap like most of the entries by Grants High School teams. Also like many Grants High School bots, Kanye's license did poorly in competition, breaking down in both of its matches.
Robot History
Edit
RoboGames 2017
Edit
Kanye's license's first match was against another robot from Grants High School, Unlicensed Disintegration. This was a rather uneventful match with both robots avoiding each other for the first 30 seconds. Unlicensed Disintegration then slammed Kanye's license against the wall immobilizing it, Kanye's license was then counted out giving Unlicensed Disintegration the win by KO.
"Kanye's license kind of hanging out in its square, it's tires are spinning, but it's not connecting with the ground."
— Scott Robinson on the fight.
This put Kanye's license in the loser's bracket where it faced Danger Zone. This match started with Danger Zone spinning up, and ripping a piece off of Kanye's license, which promptly got high centered in the starting square, and was counted out. This meant that Kanye's license of Sally's Mustang of Unlicensed Disintegration was eliminated from the competition.
Wins/Losses
Edit
The reason for this robots long name was because the team was allegedly unable to decide on which of the three names to use, so they used them all.
The combined time Kanye's License spent in the arena during its fights was barely over a minute.
Community content is available under
CC-BY-SA
unless otherwise noted.