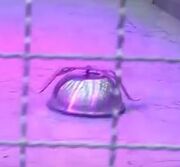 KK Wind
was a robot from Thailand that competed at the first Seacon War of Steel. It was a silver, dome-shaped robot armed with an overhead spinning bar. KK Wind performed decently in competition, reaching the Group C, Line 1 Finals before being destroyed by R.E Raptor.
Robot History
Edit
Seacon War of Steel 1
Edit
KK Wind's first match was against Scit. It won this match, and advanced to round 2 where it faced Pang Sida. This fight started with KK Wind spinning up, Pang Sida then rammed it, and stopped working. To make matters worse KK Wind was still mobile, and Pang Sida started smoking as it was counted out.
This put KK Wind through to the Group C Finals where it faced R.E Raptor. This match started with R.E Raptor spinning up, unable to get its weapon working KK Wind started running away. R.E Raptor gave chase, and delivered a hit to KK Wind, ripping a gash in its armor.
R.E Raptor then delivered several more hits, denting and ripping the armor of KK Wind even further. KK Wind then managed to stop the spinner of R.E Raptor temporarily, but it quickly spun back up and delivered another flurry of blows carving up KK Wind even further. This pattern of KK Wind stopping R.E Raptor's weapon, then getting carved up further would continue until time ran out.
Unsurprisingly the judges gave the decision to R.E Raptor, KK Wind was then supposed to compete in the Group C loser's melee against Strong, and The Terminator. Unfortunately it had taken so much damage during its battle with R.E Raptor that it was unable to be repaired in time for the melee. This meant that it was forced to forfeit the match, and was eliminated from the competition.
Series
Group
Round
Opponent(s)
Results
Seacon War of Steel 1
Group C, Line 1
Line 1 Eliminators
Scit
Won

Line 1 Semi-Finals

Pang Sida
Won
Group C Final
Line 1 Final
R.E Raptor
Lost
Group C Loser's Mellee

Strong 

The Terminator

Lost (forfeit)
Wins/Losses
Edit
Community content is available under
CC-BY-SA
unless otherwise noted.