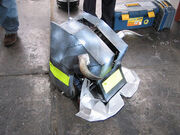 Jungles (Swa: Misitu)
 was a Middleweight robot built by Institute de Estudios Peruanos student
José Carlos Mariátegui
. It was a four-wheeled, grey, robot shaped like the head of a bull. For weaponry Misitu was armed with armed axe that had very poor range. Despite this Jungles did very well in competition, winning the championship at Villanova 2006.
Robot History
Edit
Warbots Peru 2006
Edit
Jungles first match was supposed to be against Red Dragon, however for some reason Jungles did not make it to the arena, and forfeited the match. Jungles then fought Fishbot, it lost this match, and thus soundly failed to qualify for the finals.
Villanova 2006
Edit
Jungles first match was against Manfred, this match started with Manfred experiencing drive issues, Jungles took advantage of this, and drove over to Manfred, and delivered an axe blow before backing away. Jungles then drove back in, and put its axe down on the exposed electronics of Manfred, but caused no real damage.
Manfred eventually got away to the other side of the arena, but Jungles gave chase, and brought its axe down again, clamping Manfred, and dragging it to the center of the arena. Jungles then continued dragging Manfred around for the remainder of the match. Unsurprisingly Jungles complete dominance caused the judges to award it a unanimous 80-0 decision.
This meant that Jungles was now in round 2 where it faced Hendrix 69, it won this match on a 40-0 decision putting it in the semi-finals where it faced Red Dragon. It won this match on a 35-18 decision, and advanced to the finals where it faced Moshibot. It won this match on a 34-8 decision, and became the champion of Villanova 2006.
Wins/Losses
Edit
Competition
Opponent(s)
Round
Results
Warbots Peru 2006
Red Dragon
Qualifiers
Lost (forfeit)
Fishbot

Lost

(Failed to qualify)

Villanova 2006
Manfred
1
Won
Hendrix 69
2
Won
Red Dragon
Semi-Finals
Won
Moshibot
Finals
Won
Community content is available under
CC-BY-SA
unless otherwise noted.