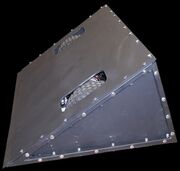 Jimmy was a Junior Middleweight built by Team Tofurkey that competed in ROBOLympics 2004. It was a Gray two-wheeled invertible wedge shaped robot with no active weapon. Jimmy did well, winning the Silver Medal.
Robot History
Edit
Nothing is known about Jimmy's fights in ROBOLympics 2004, what is known was that the Junior Middleweight competition was a round robin type event. Jimmy's first fight was against The Mortician it won this, and was next up against former BattleBots competitor Mow Blow. Jimmy lost this fight, and would be placed next up against Voodoo Child which it won.
Jimmy's next opponent was the double wedge of Dolor, and Jimmy won this match as well. Jimmy then faced Caustic Creations first RoboGames drum spinner Mean Green Fight'n Machine, winning this fight meant it was now up against The Mortician again, this time for the title. Jimmy lost this fight, and that meant that it was now the Silver Medalist, Jimmy would not return the next year, and ROBOLympics 2004 would turn out to be its second to last event ever as it retired following the 2004 Southwest Division Championships.
Series
Event
Opponent(s)
Results
Steel Conflict I
Middleweight Division
Viking Dragon
Lost
Hazard
Lost
Steel Conflict II
Middleweight Division
Cronus
Lost
Lupus Ex Luna
Won
Chiabot
Won
T-Minus
Lost
Steel Conflict IV
Middleweight Division
Back Stabber
Won
Tesla's Tornado
Won
Max Wedge
Lost
Ding Bot X
Won
Weed Wacker
Won
Psychotron
Lost
Armadillo
Won
ROBOlympics 2004
Middleweight Division
The Mortician
Won
Mow Blow
Lost
Voodoo Child
Won
Dolor
Won
Mean Green Fight'n Machine
Won
The Mortician
Lost
Southwest Division Championships
Middleweight Division
Whiz!
Won
Devil's Plunger
Lost
Tuka The Cat
Lost
Wins/Losses
Edit
Community content is available under
CC-BY-SA
unless otherwise noted.