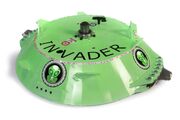 Invader is a robot which competed in the second season of ABC's BattleBots reboot. Invader was created by the Robotic Death Company and is a modified version of their famous Megabyte which uses the superheavyweight Super Megabyte's drive train. Its main weapon is still a full-body spinning shell. Despite being destructive in its only appearance, an electrical failure caused it to be eliminated early into the tournament.
But on Facebook, the team have confirmed that if the show gets renewed for a third season, they will return.
Robot History
Edit
Invader was one of twelve robots which was forced to compete in three-way melees in order to determine the final four robots of the bracket. In its match it was placed against Season 1 competitors Mohawk and the rookie Lycan. Invader got up to speed quickly and carved a large hole into Lycan's armor before being knocked away. Invader began spinning around uncontrollably, but eventually recovered. However, its receiver failed, causing the robot to stop responding entirely, meaning it was incapacitated. Lycan rammed it several more times, however, before Mohawk finally intervened and finished the match by knocking out Lycan. The match was called, but Invader could not spin its weapon down. It took 45 minutes to get Invader to a slow enough speed where it could safely be shut off.
Wins/Losses
Edit
Community content is available under
CC-BY-SA
unless otherwise noted.