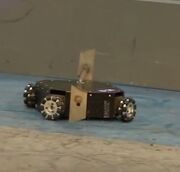 Granddaughter goddess
(Thai: หลานเจ้าพ่อพระยาแล) was a robot from Thailand that competed at the first Seacon War of Steel. It was a black, circular-shaped robot armed with a horizontal spinning bar, for drive it had four omni-wheels. Granddaughter goddess did well in competition, reaching the loser's melee of Group D before losing to Optimus EE.
Robot History
Edit
Seacon War of Steel 1
Edit
Granddaughter goddess's first match was against Ram Robot's Every Blossom. This fight consisted of Ram Robot shoving The Granddaughter goddess around for the entirity of the match until Ram Robot broke down, and was counted out. This put it through to the Group D, Line 2 Semi-Finals where it faced Resumption The Dark Raven.
This match started out strongly for Resumption, which bolted out of its square top speed, and started slamming Granddaughter goddess around the arena. However 1 minute, and 30 seconds into the fight Resumption lost drive on the right side, and time ran out with neither robot hitting each other for the remainder of the match. Round 2 of the match started with Resumption suffering the same drive issues, and it was counted out shortly after the start of the fight.
This put Granddaughter goddess in the Group D, Line 2 Final where it faced Magneto. This match started with Granddaughter goddess getting up to speed, and delivering a blow to Magneto. However Magneto instantly recovered, and clamped down on Granddaughter goddess, and started draging it across the arena. Pinned, and unable to move freely it was then counted out.
Granddaughter goddess then went into the loser's melee where it faced Optimus EE, and Surin Phrathat. In this match Optimus EE started by lining up a shot on Granddaughter goddess, which was spinning wildly. However it was interupted momentarily by Surin Phrathat, which got under it briefly before Optimus EE slammed Granddaughter goddess once, immobilizing it. Granddaughter goddess was then counted out, and eliminated alongside Surin Phrathat, which was pitted by Optimus EE.
Series
Event
Round
Opponent(s)
Results
Seacon War of Steel 1
Group D, Line 2
Group D, Line 2 Eliminators
Ram Robot's Every Blossom
Won
Group D, Line 2 Semi-Finals
Resumption the Dark Raven
Won
Won
Group D Finals
Group D, Line 2 Final
Magneto
Lost
Loser's Melee

Optimus EE

Surin Phrathat

Lost
Wins/Losses
Edit
Community content is available under
CC-BY-SA
unless otherwise noted.