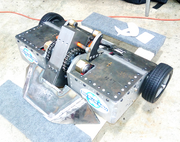 Gompei
 is a Middleweight robot from the US that competed in RoboGames 2018. It was a two-wheeled, box-wedge shaped robot armed with a vertical spinning bar. Gompei did poorly in competition, catching fire during the twitch tests for its first match, irreparably burning down, and becoming one of the handful of robots to be eliminated on day 1 of the competition.
Gompei was built by students from the from the Worchester Polytechnic Institute, a college which had also produced Robogames 2008, and 2009 Gold Medalist, and Robot Combat Hall of Fame inductee Professor Chaos.
Robot History
Edit
Robogames 2018
Edit
Gompei's first ever match was slated to be against returning crowd favorites Clean Sweeper. However as soon as the robots were turned on to begin their twitch test Gompei immediately started smoking before suddenly bursting into flames. The match was promptly called in favor of Clean Sweeper, and Gompei was taken outside of the building underneath a fire blanket with fire extinguishers on standby.
This meant that Gompei was now in the loser's bracket where it was supposed to face Wolverine, however Gompei had suffered so much damage from the fire that it was unable to be repaired in time, and thus was forced to forfeit the match. This meant that Gompei was eliminated from the competition without ever fighting a single match.
Wins/Losses
Edit
Competition
Event
Opponent(s)
Round
Results
Robogames 2018
120lb Combat
Clean Sweeper
Round of 16
Lost (forfeit)
Wolverine
Lost (forfeit)
Community content is available under
CC-BY-SA
unless otherwise noted.