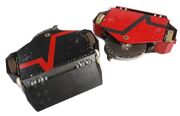 Gemini is a robot which competed in the second season of ABC's BattleBots reboot. Gemini is a multibot with two identical halves, a first for the new show. Both halves are equipped with a horizontally-spinning disc and a rear wedge. Gemini was originally an alternate for the show, but was allowed in due to one of the many drop-outs which occurred at Season 2. Gemini was created by a team completely new to BattleBots led by Agustus "Ace" Shelander and Brentley Wiles.
Gemini was originally going to be named Free Radicals, but this name was rejected by BattleBots.
Robot History
Edit
Gemini was one of twelve robots which was forced to compete in three-way melees in order to determine the final four robots of the bracket. In its match it was placed against Basilisk and Blacksmith. The two waited for Blacksmith to attack and immobilize Basilisk before coming in, trying and failing to damage Blacksmith with its discs. Eventually, Blacksmith cornered the two robots and hammered away, immobilizing the black half. The red half of Gemini continued to fight, taking hit after hit from Blacksmith and eventually losing half of its drive system. However, at this point Blacksmith had stopped moving entirely, and it had begun to catch fire. Gemini was set to advance, being the only robot left moving, when Blacksmith moved just long enough to avoid being counted out with seconds left on the clock. This meant the match went to the judges, who ruled unanimously for Blacksmith.
Series
Round
Opponent(s)
Results
ABC BattleBots 2016
Eliminator
Basilisk

Blacksmith

Lost
Wins/Losses
Edit
Community content is available under
CC-BY-SA
unless otherwise noted.