Forklift's Revenge was a maroon wedge-shaped robot that competed in Series 3 of Robot Wars. It was a sequel to Reserve Robot Forklift.
The robot was made from a welded steel tube body frame, and had MDF and steel panels. Forklift's Revenge featured wedge shaped forks made from industrial shelving for attacking low ground clearances, but its main weapons were two chains that ran up the wedge. These chains were toothed, so that they could hook other robots and drag them over its body. However, it was unable to use these to good effect against its only opponent Suicidal Tendencies, and was dumped down the pit - the second robot in its heat to suffer that fate.
Robot History
Edit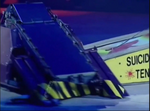 Suicidal Tendencies was Forklift's Revenge's opponent. The two robots immediately slammed into each other in the middle of the arena and Suicidal Tendencies drove right on top of Forklift's Revenge's wedge, but got away. It then drove behind Forklift's Revenge and slammed into it, breaking some of its teeth off. Forklift's Revenge then ripped part of the Arena Flipper chevron tape off with its forks. Suicidal Tendencies pushed Forklift's Revenge towards the flame pit and into Sir Killalot's Corner Patrol Zone. Sir Killalot hooked its drill lance onto Forklift's Revenge's chains, allowing it to flourish in mid-air, holding it up and rolling it over in midair several times, at one point slamming it onto the ground,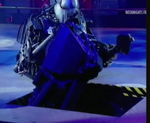 but picking it up again.
"This is a mere bauble - a toy - for Killalot - that's rather gruesome, all those weeks' works coming to naught, coming to a gruesome end..."
— Jonathan Pearce as Killalot carries Forklift's Revenge
Sir Killalot took Forklift's Revenge over to the pit, dropping it in. This eliminated Forklift's Revenge from the competition, despite only entering the CPZ before being defeated outright.
| Series | Event | Round | Opponent(s) | Results |
| --- | --- | --- | --- | --- |
| UK Robot Wars Series 3 | Heat A | Eliminator | Suicidal Tendencies | Lost |
Wins/Losses
Edit
Team member Bob Benton used to collect tumble dryer doors in his garage.
During its battle with Suicidal Tendencies, Forklift's Revenge's wedges pulled free a piece of tape that marked the area of the arena floor flipper.
Community content is available under
CC-BY-SA
unless otherwise noted.